JPMorgan Chase set a GBX 85 ($1.19) price objective on Lloyds Banking Group (LON:LLOY) in a research note issued to investors on Wednesday. The brokerage currently has a buy rating on the financial services provider's stock.
LLOY has been the topic of several other reports. UBS set a GBX 85 ($1.19) target price on Lloyds Banking Group and gave the stock a buy rating in a report on Monday, February 12th. HSBC reiterated a buy rating and set a GBX 72 ($1.00) target price on shares of Lloyds Banking Group in a report on Monday, January 29th. Deutsche Bank increased their target price on Lloyds Banking Group from GBX 77 ($1.07) to GBX 83 ($1.16) and gave the stock a buy rating in a report on Friday, January 26th. Royal Bank of Canada set a GBX 90 ($1.26) target price on Lloyds Banking Group and gave the stock a buy rating in a report on Thursday, March 8th. Finally, Morgan Stanley cut Lloyds Banking Group to an equal weight rating and lowered their target price for the stock from GBX 80 ($1.12) to GBX 75 ($1.05) in a report on Wednesday, January 10th. Four equities research analysts have rated the stock with a sell rating, three have assigned a hold rating and fifteen have issued a buy rating to the company. The company presently has an average rating of Buy and an average price target of GBX 76.20 ($1.06).
Shares of LLOY traded down GBX 0.34 ($0.00) on Wednesday, hitting GBX 64.66 ($0.90). The company's stock had a trading volume of 108,022,239 shares, compared to its average volume of 151,650,000. Lloyds Banking Group has a fifty-two week low of GBX 61.81 ($0.86) and a fifty-two week high of GBX 73.58 ($1.03).
The company also recently announced a dividend, which will be paid on Tuesday, May 29th. Investors of record on Thursday, April 19th will be paid a GBX 2.05 ($0.03) dividend. This is an increase from Lloyds Banking Group's previous dividend of $1.00. This represents a yield of 2.99%. The ex-dividend date of this dividend is Thursday, April 19th.
ILLEGAL ACTIVITY NOTICE: This report was first posted by StockNewsTimes and is owned by of StockNewsTimes. If you are accessing this report on another website, it was stolen and reposted in violation of U.S. and international trademark & copyright legislation. The legal version of this report can be accessed at https://stocknewstimes.com/2018/04/26/lloyds-banking-group-lloy-given-a-gbx-85-price-target-at-jpmorgan-chase.html.
Lloyds Banking Group Company Profile
Lloyds Banking Group plc provides banking and financial services under the Lloyds Bank, Halifax, Bank of Scotland, and Scottish Widows brands in the United Kingdom and internationally. The company operates through three segments: Retail, Commercial Banking, and Insurance and Wealth. The Retail segment offers a range of financial service products, including current accounts, savings accounts, mortgages, motor finance, and unsecured consumer lending products to personal and small business customers.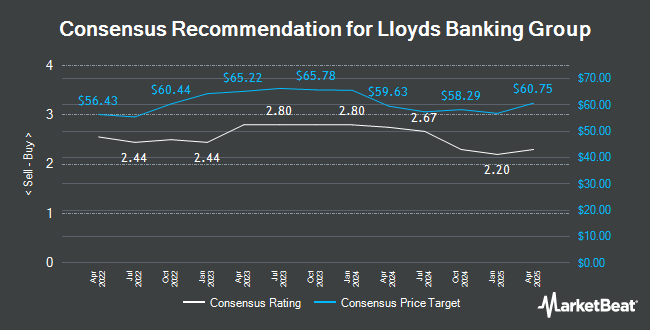 Receive News & Ratings for Lloyds Banking Group Daily - Enter your email address below to receive a concise daily summary of the latest news and analysts' ratings for Lloyds Banking Group and related companies with MarketBeat.com's FREE daily email newsletter.