Barrick Gold (TSE:ABX) (NYSE:ABX) – Analysts at Desjardins raised their FY2018 EPS estimates for shares of Barrick Gold in a research note issued to investors on Monday, April 16th, Zacks Investment Research reports. Desjardins analyst J. Wolfson now expects that the company will earn $1.01 per share for the year, up from their previous forecast of $0.93. Desjardins also issued estimates for Barrick Gold's Q1 2019 earnings at $0.18 EPS, Q2 2019 earnings at $0.18 EPS, Q3 2019 earnings at $0.18 EPS and Q4 2019 earnings at $0.16 EPS.
Barrick Gold (TSE:ABX) (NYSE:ABX) last issued its earnings results on Wednesday, February 14th. The company reported C$0.28 EPS for the quarter, beating the consensus estimate of C$0.26 by C$0.02. The company had revenue of C$2.83 billion during the quarter, compared to analysts' expectations of C$2.76 billion. Barrick Gold had a negative net margin of 36.36% and a negative return on equity of 27.89%.
Other equities analysts have also issued research reports about the stock. Canaccord Genuity boosted their price target on shares of Barrick Gold from C$24.50 to C$27.00 in a report on Friday, January 19th. BMO Capital Markets set a C$15.00 price target on shares of Barrick Gold and gave the company a "market perform" rating in a report on Thursday, February 15th. Nine research analysts have rated the stock with a hold rating, The stock presently has an average rating of "Hold" and an average target price of C$21.00.
Shares of Barrick Gold stock opened at C$17.15 on Wednesday. Barrick Gold has a 52 week low of C$14.26 and a 52 week high of C$24.80.
In other Barrick Gold news, insider Robert Ljubomir Krcmarov acquired 2,000 shares of Barrick Gold stock in a transaction dated Wednesday, March 14th. The stock was bought at an average cost of C$15.71 per share, for a total transaction of C$31,420.00. Also, Director John Lawson Thornton acquired 306,000 shares of Barrick Gold stock in a transaction dated Thursday, March 8th. The shares were acquired at an average price of C$11.72 per share, with a total value of C$3,586,320.00. Over the last ninety days, insiders purchased 338,845 shares of company stock valued at $5,082,692.
COPYRIGHT VIOLATION NOTICE: This news story was originally reported by StockNewsTimes and is the sole property of of StockNewsTimes. If you are accessing this news story on another domain, it was stolen and republished in violation of US and international trademark & copyright law. The original version of this news story can be accessed at https://stocknewstimes.com/2018/04/25/barrick-gold-to-post-fy2018-earnings-of-1-01-per-share-desjardins-forecasts-abx.html.
Barrick Gold Company Profile
Barrick Gold Corporation engages in the exploration and development of mineral properties. It primarily explores for gold and copper deposits. The company holds a 50% interest in the Veladero mine located in the San Juan Province of Argentina; 50% interest in the KCGM, a gold mine located in Australia; 95% interest in Porgera, a gold mine located in Papua New Guinea; 50% interest in the Zaldívar, a copper mine located in Chile; and 50% interest in the Jabal Sayid, a copper mine located in Saudi Arabia.
Get a free copy of the Zacks research report on Barrick Gold (ABX)
For more information about research offerings from Zacks Investment Research, visit Zacks.com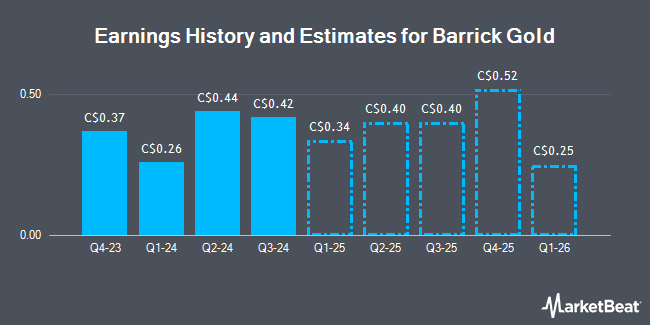 Receive News & Ratings for Barrick Gold Daily - Enter your email address below to receive a concise daily summary of the latest news and analysts' ratings for Barrick Gold and related companies with MarketBeat.com's FREE daily email newsletter.