Jabil Inc (NYSE:JBL) EVP Erich Hoch sold 423 shares of the business's stock in a transaction that occurred on Friday, March 16th. The shares were sold at an average price of $29.88, for a total value of $12,639.24. The sale was disclosed in a filing with the Securities & Exchange Commission, which is available through the SEC website.
Jabil stock traded down $0.99 on Thursday, reaching $29.59. The company had a trading volume of 1,357,219 shares, compared to its average volume of 2,311,224. Jabil Inc has a 12-month low of $23.70 and a 12-month high of $31.77. The company has a current ratio of 1.04, a quick ratio of 0.54 and a debt-to-equity ratio of 0.95. The firm has a market cap of $5,392.00, a price-to-earnings ratio of 45.01, a P/E/G ratio of 1.25 and a beta of 0.44.
Jabil (NYSE:JBL) last posted its earnings results on Thursday, March 15th. The technology company reported $0.66 earnings per share for the quarter, topping the Thomson Reuters' consensus estimate of $0.62 by $0.04. Jabil had a return on equity of 14.31% and a net margin of 0.60%. The firm had revenue of $5.30 billion during the quarter, compared to analyst estimates of $4.91 billion. During the same period in the previous year, the company earned $0.48 EPS. The company's revenue for the quarter was up 19.2% on a year-over-year basis. research analysts expect that Jabil Inc will post 2.05 EPS for the current year.
The business also recently announced a quarterly dividend, which was paid on Thursday, March 1st. Investors of record on Thursday, February 15th were issued a $0.08 dividend. The ex-dividend date was Wednesday, February 14th. This represents a $0.32 annualized dividend and a yield of 1.08%. Jabil's dividend payout ratio (DPR) is currently 47.76%.
A number of institutional investors and hedge funds have recently bought and sold shares of JBL. Premia Global Advisors LLC bought a new position in shares of Jabil during the fourth quarter worth about $174,000. Signition LP purchased a new position in shares of Jabil during the fourth quarter worth $202,000. Alambic Investment Management L.P. purchased a new position in shares of Jabil during the fourth quarter worth $215,000. ETRADE Capital Management LLC purchased a new position in shares of Jabil during the third quarter worth $238,000. Finally, Zurcher Kantonalbank Zurich Cantonalbank raised its holdings in shares of Jabil by 47.1% during the fourth quarter. Zurcher Kantonalbank Zurich Cantonalbank now owns 8,907 shares of the technology company's stock worth $234,000 after purchasing an additional 2,853 shares during the last quarter. Hedge funds and other institutional investors own 99.76% of the company's stock.
Several brokerages recently commented on JBL. Zacks Investment Research cut Jabil from a "hold" rating to a "sell" rating in a research note on Tuesday. Standpoint Research raised Jabil from a "hold" rating to a "buy" rating in a research note on Tuesday, February 27th. Raymond James Financial reissued a "hold" rating on shares of Jabil in a research note on Thursday, December 14th. Goldman Sachs lowered their price target on Jabil to $24.00 and set a "sell" rating for the company in a research note on Friday, January 26th. Finally, ValuEngine cut Jabil from a "strong-buy" rating to a "buy" rating in a research note on Monday, December 4th. Three analysts have rated the stock with a sell rating, five have assigned a hold rating and seven have given a buy rating to the stock. Jabil has a consensus rating of "Hold" and an average price target of $32.90.
COPYRIGHT VIOLATION WARNING: This story was first reported by StockNewsTimes and is the property of of StockNewsTimes. If you are viewing this story on another publication, it was stolen and reposted in violation of US & international copyright and trademark legislation. The legal version of this story can be read at https://stocknewstimes.com/2018/03/22/jabil-inc-jbl-evp-sells-12639-24-in-stock.html.
Jabil Company Profile
Jabil Inc, formerly Jabil Circuit, Inc, provides electronic manufacturing services and solutions throughout the world. The Company operates in two segments, which include Electronics Manufacturing Services (EMS) and Diversified Manufacturing Services (DMS). The Company's EMS segment is focused on leveraging information technology (IT), supply chain design and engineering, technologies centered on core electronics, sharing of its large scale manufacturing infrastructure and the ability to serve a range of markets.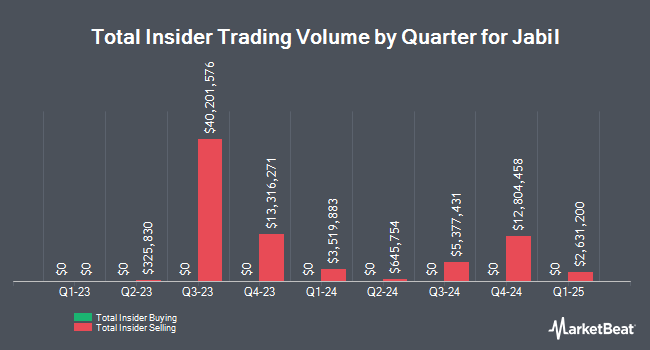 Receive News & Ratings for Jabil Daily - Enter your email address below to receive a concise daily summary of the latest news and analysts' ratings for Jabil and related companies with MarketBeat.com's FREE daily email newsletter.