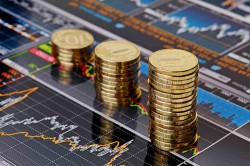 M3F Inc. increased its position in shares of PB Bancorp Inc (NASDAQ:PBBI) by 20.0% in the fourth quarter, according to its most recent 13F filing with the Securities & Exchange Commission. The institutional investor owned 406,746 shares of the bank's stock after purchasing an additional 67,790 shares during the quarter. PB Bancorp makes up approximately 5.4% of M3F Inc.'s holdings, making the stock its 8th biggest holding. M3F Inc. owned approximately 5.23% of PB Bancorp worth $4,373,000 at the end of the most recent reporting period.
Separately, Vanguard Group Inc. increased its position in shares of PB Bancorp by 0.8% during the 2nd quarter. Vanguard Group Inc. now owns 102,585 shares of the bank's stock worth $1,088,000 after purchasing an additional 800 shares in the last quarter. Institutional investors own 31.11% of the company's stock.
Shares of PB Bancorp stock traded up $0.25 during trading on Monday, hitting $10.55. 11,500 shares of the company were exchanged, compared to its average volume of 14,856. The firm has a market cap of $81.98, a PE ratio of 40.58 and a beta of 0.20. The company has a quick ratio of 0.97, a current ratio of 0.97 and a debt-to-equity ratio of 0.94. PB Bancorp Inc has a 1-year low of $9.95 and a 1-year high of $11.10.
In related news, CFO Robert J. Halloran, Jr. sold 4,500 shares of the stock in a transaction dated Thursday, March 8th. The shares were sold at an average price of $10.36, for a total transaction of $46,620.00. The sale was disclosed in a legal filing with the Securities & Exchange Commission, which is available at
the SEC website
. Company insiders own 8.55% of the company's stock.
TRADEMARK VIOLATION NOTICE: This news story was first posted by StockNewsTimes and is owned by of StockNewsTimes. If you are accessing this news story on another website, it was stolen and reposted in violation of U.S. & international trademark and copyright legislation. The correct version of this news story can be read at https://stocknewstimes.com/2018/03/19/m3f-inc-purchases-67790-shares-of-pb-bancorp-inc-pbbi.html.
About PB Bancorp
PB Bancorp Inc is a bank holding company. The company was founded in September 2015 and is located in Putnam, Connecticut.
Want to see what other hedge funds are holding PBBI? Visit HoldingsChannel.com to get the latest 13F filings and insider trades for PB Bancorp Inc (NASDAQ:PBBI).
Receive News & Ratings for PB Bancorp Daily - Enter your email address below to receive a concise daily summary of the latest news and analysts' ratings for PB Bancorp and related companies with MarketBeat.com's FREE daily email newsletter.