Medtronic plc. (NYSE:MDT) declared a quarterly dividend on Friday, March 9th, NASDAQ reports. Stockholders of record on Friday, March 23rd will be paid a dividend of 0.46 per share by the medical technology company on Friday, April 13th. This represents a $1.84 annualized dividend and a dividend yield of 2.26%. The ex-dividend date is Thursday, March 22nd.
Medtronic has raised its dividend by an average of 15.0% annually over the last three years and has raised its dividend annually for the last 40 consecutive years. Medtronic has a dividend payout ratio of 38.6% indicating that its dividend is sufficiently covered by earnings. Research analysts expect Medtronic to earn $5.15 per share next year, which means the company should continue to be able to cover its $1.84 annual dividend with an expected future payout ratio of 35.7%.
Medtronic (NYSE MDT) traded down $0.74 on Friday, reaching $81.29. 9,385,764 shares of the company traded hands, compared to its average volume of 5,580,479. The firm has a market capitalization of $111,181.25, a PE ratio of 40.04, a PEG ratio of 2.33 and a beta of 0.97. The company has a quick ratio of 2.09, a current ratio of 2.43 and a debt-to-equity ratio of 0.51. Medtronic has a 1 year low of $76.51 and a 1 year high of $89.72.
Medtronic (NYSE:MDT) last posted its quarterly earnings results on Tuesday, February 20th. The medical technology company reported $1.17 earnings per share (EPS) for the quarter, beating the consensus estimate of $1.16 by $0.01. The firm had revenue of $7.37 billion for the quarter, compared to analysts' expectations of $7.20 billion. Medtronic had a net margin of 9.44% and a return on equity of 12.65%. The firm's quarterly revenue was up 1.2% on a year-over-year basis. During the same period in the prior year, the company posted $1.12 earnings per share. sell-side analysts predict that Medtronic will post 4.75 earnings per share for the current year.
MDT has been the topic of several recent analyst reports. Bank of America raised shares of Medtronic from a "neutral" rating to a "buy" rating in a report on Tuesday, January 2nd. Argus raised shares of Medtronic from a "hold" rating to a "buy" rating and upped their price target for the company from $81.27 to $95.00 in a report on Tuesday, December 12th. They noted that the move was a valuation call. Oppenheimer reaffirmed a "buy" rating on shares of Medtronic in a report on Thursday, December 21st. Stifel Nicolaus upped their price target on shares of Medtronic from $83.00 to $85.00 and gave the company a "hold" rating in a report on Wednesday, November 22nd. Finally, Royal Bank of Canada reaffirmed an "outperform" rating and issued a $92.00 price target on shares of Medtronic in a report on Wednesday, February 14th. One equities research analyst has rated the stock with a sell rating, eight have assigned a hold rating and sixteen have given a buy rating to the company's stock. The stock currently has an average rating of "Buy" and a consensus price target of $91.50.
In other Medtronic news, EVP Hooman Hakami sold 26,158 shares of the stock in a transaction on Friday, January 5th. The shares were sold at an average price of $85.00, for a total transaction of $2,223,430.00. The sale was disclosed in a legal filing with the SEC, which is available through the SEC website. Also, VP Richard Kuntz sold 78,526 shares of the stock in a transaction on Tuesday, January 9th. The stock was sold at an average price of $86.21, for a total transaction of $6,769,726.46. Following the sale, the vice president now directly owns 149,761 shares in the company, valued at $12,910,895.81. The disclosure for this sale can be found here. Insiders have sold 130,469 shares of company stock worth $11,016,054 over the last three months. 0.31% of the stock is owned by corporate insiders.
TRADEMARK VIOLATION NOTICE: "Medtronic plc. to Issue Quarterly Dividend of $0.46 (MDT)" was reported by StockNewsTimes and is the sole property of of StockNewsTimes. If you are accessing this piece on another publication, it was illegally copied and reposted in violation of US & international trademark and copyright legislation. The legal version of this piece can be read at https://stocknewstimes.com/2018/03/17/medtronic-plc-to-issue-quarterly-dividend-of-0-46-mdt.html.
About Medtronic
Medtronic Public Limited Company (Medtronic) is a medical technology and services company. The Company develops, manufactures and markets its medical devices and technologies to hospitals, physicians, clinicians and patients in approximately 160 countries. The Company operates in four segments: Cardiac and Vascular Group, Minimally Invasive Technologies Group, Restorative Therapies Group and Diabetes Group.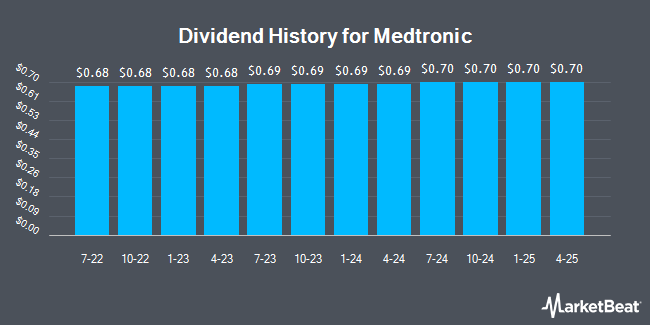 Receive News & Ratings for Medtronic Daily - Enter your email address below to receive a concise daily summary of the latest news and analysts' ratings for Medtronic and related companies with MarketBeat.com's FREE daily email newsletter.