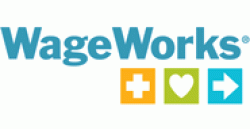 Wageworks (NYSE:WAGE) will be releasing its earnings data after the market closes on Monday, March 19th. Analysts expect Wageworks to post earnings of $0.42 per share for the quarter.
Wageworks (NYSE:WAGE) traded down $2.55 during trading hours on Thursday, reaching $45.70. 516,986 shares of the company were exchanged, compared to its average volume of 504,113. Wageworks has a 1 year low of $38.40 and a 1 year high of $80.50. The company has a current ratio of 1.38, a quick ratio of 1.38 and a debt-to-equity ratio of 0.41. The stock has a market cap of $1,900.57, a price-to-earnings ratio of 39.06, a price-to-earnings-growth ratio of 1.79 and a beta of 0.87.
A number of research firms recently weighed in on WAGE. ValuEngine lowered shares of Wageworks from a "hold" rating to a "sell" rating in a research report on Tuesday, February 13th. Zacks Investment Research lowered shares of Wageworks from a "strong-buy" rating to a "hold" rating in a research report on Saturday, January 13th. Finally, TheStreet lowered shares of Wageworks from a "b-" rating to a "c+" rating in a research report on Wednesday, March 7th. Two investment analysts have rated the stock with a sell rating, one has given a hold rating, two have issued a buy rating and one has given a strong buy rating to the company's stock. Wageworks has a consensus rating of "Hold" and an average target price of $75.67.
COPYRIGHT VIOLATION WARNING: "Wageworks (WAGE) to Release Quarterly Earnings on Monday" was published by StockNewsTimes and is the sole property of of StockNewsTimes. If you are viewing this story on another domain, it was copied illegally and republished in violation of United States and international copyright laws. The legal version of this story can be viewed at https://stocknewstimes.com/2018/03/15/wageworks-wage-to-release-quarterly-earnings-on-monday.html.
Wageworks Company Profile
WageWorks, Inc is engaged in administering Consumer-Directed Benefits (CDBs). The Company administers CBDs, including pre-tax spending accounts, such as Health Savings Accounts (HSAs), health and dependent care Flexible Spending Accounts (FSAs), and Health Reimbursement Arrangements (HRAs), as well as Commuter Benefit Services, including transit and parking programs, wellness programs, Consolidated Omnibus Budget Reconciliation Act (COBRA) and other employee benefits.
Receive News & Ratings for Wageworks Daily - Enter your email address below to receive a concise daily summary of the latest news and analysts' ratings for Wageworks and related companies with MarketBeat.com's FREE daily email newsletter.