Trinseo (NYSE:TSE) issued an update on its first quarter earnings guidance on Tuesday morning. The company provided EPS guidance of $2.34-2.52 for the period, compared to the Thomson Reuters consensus EPS estimate of $2.17. Trinseo also updated its FY18 guidance to $8.26-8.63 EPS.
Shares of Trinseo (NYSE:TSE) traded down $1.90 during trading hours on Wednesday, reaching $80.05. The company's stock had a trading volume of 229,660 shares, compared to its average volume of 358,687. Trinseo has a one year low of $57.70 and a one year high of $85.35. The firm has a market capitalization of $3,542.51, a P/E ratio of 10.97, a PEG ratio of 0.96 and a beta of 2.27. The company has a debt-to-equity ratio of 1.73, a current ratio of 2.63 and a quick ratio of 1.81.
Trinseo (NYSE:TSE) last announced its quarterly earnings results on Monday, February 19th. The basic materials company reported $2.14 earnings per share (EPS) for the quarter, beating the Zacks' consensus estimate of $1.67 by $0.47. Trinseo had a return on equity of 62.52% and a net margin of 7.38%. The company had revenue of $1.10 billion during the quarter, compared to the consensus estimate of $1.02 billion. During the same period in the previous year, the company posted $1.68 earnings per share. Trinseo's revenue for the quarter was up 20.2% on a year-over-year basis. equities research analysts anticipate that Trinseo will post 8.53 EPS for the current year.
The business also recently declared a quarterly dividend, which will be paid on Wednesday, April 25th. Shareholders of record on Wednesday, April 11th will be issued a $0.36 dividend. This represents a $1.44 dividend on an annualized basis and a yield of 1.80%. The ex-dividend date is Tuesday, April 10th. Trinseo's payout ratio is presently 19.73%.
TSE has been the subject of a number of analyst reports. Alembic Global Advisors reissued a buy rating on shares of Trinseo in a report on Monday, December 11th. Zacks Investment Research raised Trinseo from a hold rating to a buy rating and set a $90.00 price target for the company in a report on Friday, February 16th. Deutsche Bank boosted their price target on Trinseo to $92.00 and gave the company a buy rating in a report on Monday, January 15th. ValuEngine raised Trinseo from a buy rating to a strong-buy rating in a research note on Sunday, December 31st. Finally, Wells Fargo & Co reaffirmed an outperform rating and set a $90.00 target price (up from $86.00) on shares of Trinseo in a research note on Wednesday, February 21st. Three equities research analysts have rated the stock with a hold rating, five have assigned a buy rating and one has given a strong buy rating to the company's stock. The company currently has a consensus rating of Buy and a consensus target price of $90.17.
In other news, insider Ryan J. Leib sold 2,974 shares of the company's stock in a transaction that occurred on Tuesday, March 6th. The stock was sold at an average price of $80.68, for a total transaction of $239,942.32. Following the completion of the transaction, the insider now directly owns 7,340 shares of the company's stock, valued at approximately $592,191.20. The sale was disclosed in a filing with the SEC, which is available at this link. Also, SVP Marilyn N. Horner sold 33,124 shares of the business's stock in a transaction that occurred on Tuesday, March 6th. The stock was sold at an average price of $80.25, for a total value of $2,658,201.00. Following the sale, the senior vice president now owns 38,527 shares of the company's stock, valued at $3,091,791.75. The disclosure for this sale can be found here. Over the last ninety days, insiders have sold 44,100 shares of company stock valued at $3,555,002. Corporate insiders own 0.26% of the company's stock.
WARNING: This article was first posted by StockNewsTimes and is the property of of StockNewsTimes. If you are viewing this article on another website, it was illegally copied and reposted in violation of U.S. & international copyright and trademark laws. The correct version of this article can be accessed at https://stocknewstimes.com/2018/03/14/trinseo-tse-releases-q1-earnings-guidance.html.
Trinseo Company Profile
Trinseo SA is a materials company engaged in the manufacture and marketing of synthetic rubber, latex and plastics. The Company's segments include Latex Binders, Synthetic Rubber, Performance Plastics, Basic Plastics, Feedstocks and Americas Styrenics. The Latex Binders segment produces styrene-butadiene latex (SB latex) and other latex polymers and binders.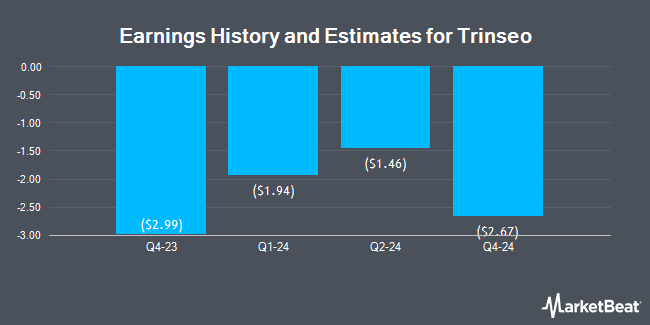 Receive News & Ratings for Trinseo Daily - Enter your email address below to receive a concise daily summary of the latest news and analysts' ratings for Trinseo and related companies with MarketBeat.com's FREE daily email newsletter.