Travelport Worldwide (NYSE:TVPT) issued its quarterly earnings results on Tuesday, February 20th. The company reported $0.35 earnings per share (EPS) for the quarter, topping the Zacks' consensus estimate of $0.01 by $0.34, Bloomberg Earnings reports. Travelport Worldwide had a negative return on equity of 49.43% and a net margin of 5.82%. The firm had revenue of $573.57 million during the quarter, compared to analyst estimates of $566.92 million. During the same period last year, the company earned $0.23 EPS. Travelport Worldwide's quarterly revenue was up 5.2% compared to the same quarter last year. Travelport Worldwide updated its FY18 guidance to $1.34-1.46 EPS.
Shares of Travelport Worldwide (NYSE TVPT) traded down $0.02 during midday trading on Wednesday, reaching $14.44. The company's stock had a trading volume of 791,754 shares, compared to its average volume of 2,453,815. The company has a current ratio of 0.68, a quick ratio of 0.68 and a debt-to-equity ratio of -11.26. The company has a market cap of $1,833.55, a price-to-earnings ratio of 12.67 and a beta of 0.41. Travelport Worldwide has a 1-year low of $11.38 and a 1-year high of $16.17.
The company also recently announced a quarterly dividend, which will be paid on Thursday, March 15th. Shareholders of record on Thursday, March 1st will be given a dividend of $0.075 per share. This represents a $0.30 dividend on an annualized basis and a yield of 2.08%. The ex-dividend date of this dividend is Wednesday, February 28th. Travelport Worldwide's dividend payout ratio (DPR) is presently 26.32%.
A number of equities research analysts recently issued reports on the company.
Zacks Investment Research
lowered Travelport Worldwide from a "hold" rating to a "strong sell" rating in a research note on Thursday, March 1st. BidaskClub lowered Travelport Worldwide from a "hold" rating to a "sell" rating in a research note on Tuesday, November 14th. UBS Group reissued a "neutral" rating and set a $15.00 price target (up from $14.00) on shares of Travelport Worldwide in a research note on Wednesday, February 21st. Morgan Stanley reissued an "equal weight" rating and set a $14.50 price target (down from $15.00) on shares of Travelport Worldwide in a research note on Wednesday, February 21st. Finally, Evercore ISI lowered Travelport Worldwide from an "outperform" rating to an "underperform" rating in a research note on Friday, January 5th. Three investment analysts have rated the stock with a sell rating, three have assigned a hold rating and one has issued a buy rating to the company. The stock has an average rating of "Hold" and an average price target of $16.13.
ILLEGAL ACTIVITY NOTICE: This piece was posted by StockNewsTimes and is owned by of StockNewsTimes. If you are reading this piece on another site, it was stolen and reposted in violation of U.S. and international copyright & trademark legislation. The legal version of this piece can be read at https://stocknewstimes.com/2018/03/14/travelport-worldwide-tvpt-posts-quarterly-earnings-results-beats-expectations-by-0-34-eps.html.
Travelport Worldwide Company Profile
Travelport Worldwide Limited provides a travel commerce platform, which offers distribution, technology, payment, mobile and other solutions for the travel and tourism industry. The Company connects travel providers, such as airlines and hotel chains with online and offline travel agencies and other travel buyers in its business-to-business (B2B) travel commerce platform (its Travel Commerce Platform).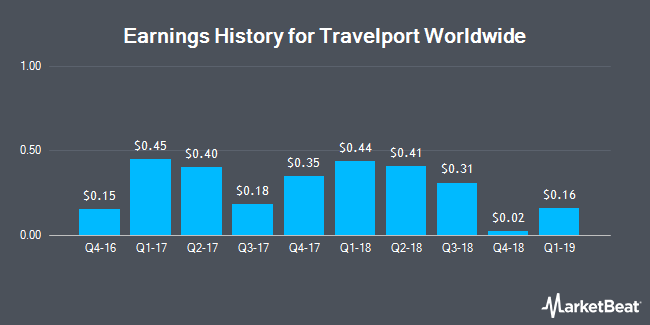 Receive News & Ratings for Travelport Worldwide Daily - Enter your email address below to receive a concise daily summary of the latest news and analysts' ratings for Travelport Worldwide and related companies with MarketBeat.com's FREE daily email newsletter.