Numis Securities upgraded shares of Persimmon (LON:PSN) to an add rating in a research note issued to investors on Wednesday, February 28th. Numis Securities currently has GBX 3,173 ($43.84) target price on the stock.
Several other research firms have also recently commented on PSN. JPMorgan Chase & Co. raised their target price on shares of Persimmon from GBX 2,800 ($38.68) to GBX 2,950 ($40.76) and gave the company an overweight rating in a research note on Thursday, December 14th. Canaccord Genuity Group reissued a hold rating and set a GBX 2,650 ($36.61) target price on shares of Persimmon in a research note on Wednesday, November 8th. Barclays lowered their target price on shares of Persimmon from GBX 2,711 ($37.46) to GBX 2,551 ($35.24) and set an underweight rating on the stock in a research note on Monday, February 5th. Deutsche Bank reissued a hold rating on shares of Persimmon in a research note on Monday, January 29th. Finally, Peel Hunt reaffirmed a hold rating and issued a GBX 2,720 ($37.58) price objective on shares of Persimmon in a research note on Tuesday, February 27th. Four research analysts have rated the stock with a sell rating, ten have issued a hold rating and three have issued a buy rating to the stock. The company has an average rating of Hold and an average target price of GBX 2,667.40 ($36.85).
Persimmon (LON:PSN) traded up GBX 1 ($0.01) during trading on Wednesday, reaching GBX 2,550 ($35.23). 908,612 shares of the company's stock traded hands, compared to its average volume of 1,540,000. The firm has a market cap of $7,920.00 and a PE ratio of 1,049.38. Persimmon has a 52-week low of GBX 2,046 ($28.27) and a 52-week high of GBX 2,901 ($40.08).
The firm also recently disclosed a dividend, which will be paid on Monday, July 2nd. Stockholders of record on Thursday, June 14th will be paid a GBX 110 ($1.52) dividend. The ex-dividend date of this dividend is Thursday, June 14th. This represents a dividend yield of 4.26%.
In other news, insider M H. Killoran sold 5,762 shares of Persimmon stock in a transaction that occurred on Wednesday, March 7th. The shares were sold at an average price of GBX 2,651 ($36.63), for a total value of £152,750.62 ($211,039.82).
TRADEMARK VIOLATION WARNING: "Persimmon (LON:PSN) Stock Rating Upgraded by Numis Securities" was originally posted by StockNewsTimes and is owned by of StockNewsTimes. If you are viewing this article on another publication, it was illegally stolen and reposted in violation of United States & international trademark and copyright legislation. The original version of this article can be viewed at https://stocknewstimes.com/2018/03/14/persimmon-psn-upgraded-to-add-at-numis-securities.html.
Persimmon Company Profile
Persimmon Plc is a United Kingdom-based holding company. The Company is engaged in house building within the United Kingdom. The Company trades under the brand names of Persimmon Homes, Charles Church, Westbury Partnerships and Space4. The Company offers a range of homes from studio apartments to family homes in approximately 400 locations under Persimmon Homes brand.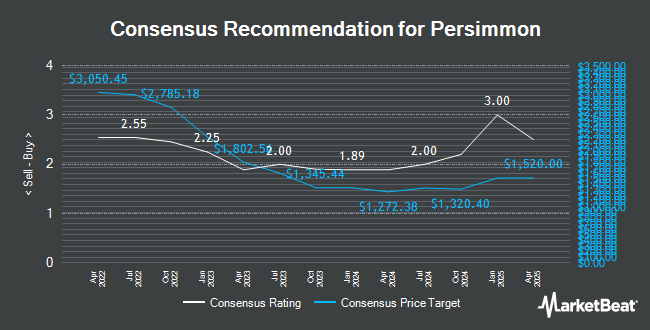 Receive News & Ratings for Persimmon Daily - Enter your email address below to receive a concise daily summary of the latest news and analysts' ratings for Persimmon and related companies with MarketBeat.com's FREE daily email newsletter.