MYDA Advisors LLC purchased a new stake in OncoSec Medical Inc (NASDAQ:ONCS) in the 4th quarter, according to the company in its most recent Form 13F filing with the Securities and Exchange Commission. The fund purchased 89,000 shares of the biotechnology company's stock, valued at approximately $145,000. MYDA Advisors LLC owned 0.21% of OncoSec Medical as of its most recent SEC filing.
In related news, CEO Daniel J. O'connor acquired 16,667 shares of the company's stock in a transaction that occurred on Monday, February 5th. The stock was acquired at an average price of $1.50 per share, with a total value of $25,000.50. Following the purchase, the chief executive officer now directly owns 16,667 shares in the company, valued at $25,000.50. The purchase was disclosed in a legal filing with the Securities & Exchange Commission, which can be accessed through this hyperlink. 5.50% of the stock is owned by corporate insiders.
OncoSec Medical Inc (NASDAQ ONCS) traded down $0.10 during midday trading on Wednesday, hitting $1.80. 1,300,000 shares of the company traded hands, compared to its average volume of 915,188. The firm has a market cap of $92.67, a price-to-earnings ratio of -1.68 and a beta of 3.21. OncoSec Medical Inc has a twelve month low of $0.88 and a twelve month high of $2.95.
Several equities research analysts recently commented on the stock. HC Wainwright set a $6.00 price objective on shares of OncoSec Medical and gave the company a "buy" rating in a research report on Friday, January 19th.
ValuEngine
cut shares of OncoSec Medical from a "sell" rating to a "strong sell" rating in a report on Friday, December 1st. Maxim Group set a $5.00 target price on shares of OncoSec Medical and gave the company a "buy" rating in a report on Thursday, December 14th. Finally, Piper Jaffray Companies started coverage on shares of OncoSec Medical in a research note on Friday, February 9th. They issued an "overweight" rating and a $4.00 price target on the stock. One research analyst has rated the stock with a sell rating and five have issued a buy rating to the company. The company has an average rating of "Buy" and an average target price of $5.00.
ILLEGAL ACTIVITY NOTICE: "MYDA Advisors LLC Takes $145,000 Position in OncoSec Medical Inc (ONCS)" was originally posted by StockNewsTimes and is the sole property of of StockNewsTimes. If you are accessing this story on another website, it was stolen and reposted in violation of United States & international copyright & trademark legislation. The correct version of this story can be read at https://stocknewstimes.com/2018/03/14/myda-advisors-llc-acquires-new-stake-in-oncosec-medical-inc-oncs.html.
OncoSec Medical Profile
OncoSec Medical Incorporated is a biotechnology company. The Company is focused on designing, developing and commercializing gene therapies, therapeutics and medical approaches to stimulate an anti-tumor immune response for the treatment of cancer. The Company's lead product candidate, ImmunoPulse IL-12, consists of a plasmid construct encoding the proinflammatory cytokine, IL-12, which is delivered into the tumor through in vivo electroporation.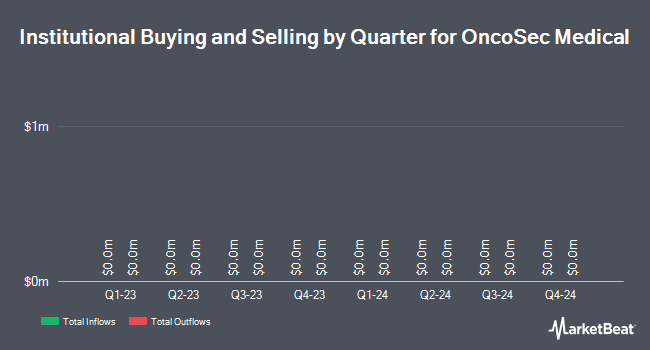 Receive News & Ratings for OncoSec Medical Daily - Enter your email address below to receive a concise daily summary of the latest news and analysts' ratings for OncoSec Medical and related companies with MarketBeat.com's FREE daily email newsletter.