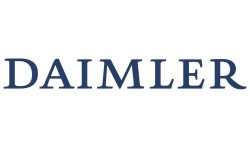 Societe Generale set a €80.00 ($98.77) price objective on Daimler (ETR:DAI) in a report published on Tuesday, February 20th. The brokerage currently has a buy rating on the stock.
Other equities analysts also recently issued reports about the company. Morgan Stanley set a €68.00 ($83.95) price target on Daimler and gave the stock a neutral rating in a research note on Wednesday, November 8th. Sanford C. Bernstein set a €85.00 ($104.94) target price on Daimler and gave the stock a buy rating in a report on Monday, November 27th. Deutsche Bank set a €90.00 ($111.11) price target on Daimler and gave the stock a buy rating in a research report on Monday, January 8th. Berenberg Bank set a €54.00 ($66.67) price target on Daimler and gave the stock a sell rating in a research report on Wednesday, January 31st. Finally, Warburg Research set a €75.00 ($92.59) target price on Daimler and gave the company a neutral rating in a research report on Tuesday, January 2nd. Two equities research analysts have rated the stock with a sell rating, fourteen have assigned a hold rating and eight have issued a buy rating to the stock. Daimler presently has an average rating of Hold and an average price target of €77.35 ($95.49).
Shares of Daimler (DAI) traded down €0.21 ($0.26) during trading hours on Tuesday, hitting €67.50 ($83.33). The stock had a trading volume of 3,390,347 shares, compared to its average volume of 4,540,000. Daimler has a 12-month low of €59.01 ($72.85) and a 12-month high of €76.36 ($94.27). The company has a market cap of $72,210.00 and a price-to-earnings ratio of 6.86.
ILLEGAL ACTIVITY WARNING: "Daimler (ETR:DAI) Given a €80.00 Price Target by Societe Generale Analysts" was originally posted by StockNewsTimes and is owned by of StockNewsTimes. If you are viewing this story on another site, it was copied illegally and republished in violation of U.S. and international trademark & copyright legislation. The correct version of this story can be read at https://stocknewstimes.com/2018/03/14/daimler-dai-given-a-80-00-price-target-at-societe-generale.html.
About Daimler
Daimler AG, together its subsidiaries, develops and manufactures passenger cars, trucks, vans, and buses in Germany and internationally. It operates through Mercedes-Benz Cars, Daimler Trucks, Mercedes-Benz Vans, Daimler Buses, and Daimler Financial Services segments. The Mercedes-Benz Cars segment offers premium vehicles of the Mercedes-Benz brand, including the Mercedes-AMG and Mercedes-Maybach brands; and small cars under the smart and Mercedes me brands, as well as electric mobility products under the EQ brand.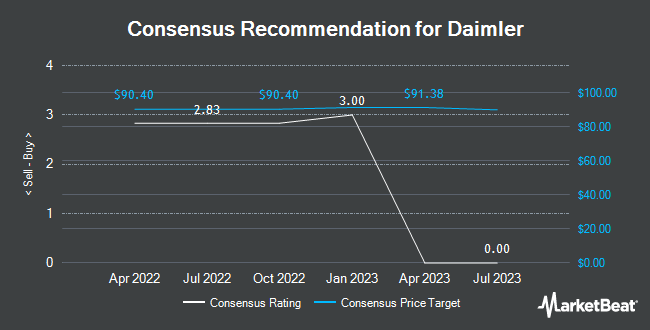 Receive News & Ratings for Daimler Daily - Enter your email address below to receive a concise daily summary of the latest news and analysts' ratings for Daimler and related companies with MarketBeat.com's FREE daily email newsletter.