Cenovus Energy (TSE:CVE) (NYSE:CVE) had its price objective reduced by National Bank Financial from C$14.00 to C$13.50 in a research report report published on Friday, February 16th. National Bank Financial currently has a sector perform rating on the stock. National Bank Financial also issued estimates for Cenovus Energy's FY2019 earnings at $0.33 EPS.
Several other research firms also recently weighed in on CVE. BMO Capital Markets lifted their target price on Cenovus Energy from C$12.00 to C$14.00 in a research report on Friday, November 3rd. TD Securities lifted their target price on Cenovus Energy from C$12.50 to C$13.50 and gave the stock a hold rating in a research report on Friday, November 3rd. AltaCorp Capital downgraded Cenovus Energy from an outperform rating to a sector perform rating in a research report on Thursday, November 9th. Scotiabank downgraded Cenovus Energy from an outperform rating to a sector perform rating and set a C$14.00 target price for the company. in a research report on Wednesday, November 15th. Finally, Citigroup raised their price target on Cenovus Energy from C$10.00 to C$13.00 in a research note on Monday, December 11th. One investment analyst has rated the stock with a sell rating, five have assigned a hold rating and five have issued a buy rating to the stock. The company currently has an average rating of Hold and a consensus price target of C$15.23.
Cenovus Energy (TSE:CVE) traded down C$0.03 during trading hours on Friday, hitting C$10.45. The stock had a trading volume of 2,460,968 shares, compared to its average volume of 4,453,123. Cenovus Energy has a fifty-two week low of C$8.89 and a fifty-two week high of C$17.81. The company has a market capitalization of $12,900.00, a P/E ratio of 5.00 and a beta of 0.47.
The company also recently declared a quarterly dividend, which will be paid on Thursday, March 29th. Stockholders of record on Thursday, March 15th will be paid a dividend of $0.05 per share. The ex-dividend date of this dividend is Wednesday, March 14th. This represents a $0.20 annualized dividend and a dividend yield of 1.91%. Cenovus Energy's dividend payout ratio is currently 9.57%.
In other news, insider Keith Chiasson purchased 2,635 shares of the business's stock in a transaction dated Monday, March 5th. The shares were purchased at an average price of C$9.60 per share, for a total transaction of C$25,296.00.
COPYRIGHT VIOLATION NOTICE: This report was published by StockNewsTimes and is the sole property of of StockNewsTimes. If you are viewing this report on another website, it was copied illegally and reposted in violation of US and international trademark & copyright legislation. The original version of this report can be viewed at https://stocknewstimes.com/2018/03/14/cenovus-energy-cve-pt-lowered-to-c13-50-at-national-bank-financial.html.
About Cenovus Energy
Cenovus Energy Inc is a Canada-based integrated oil company. It operates in the business of developing, producing and marketing crude oil, Natural Gas Liquids (NGLs) and natural gas in Canada. The Company also conducts marketing activities and owns refining interests in the United States (U.S.). Its segments include: Oil Sands, which includes the development and production of bitumen and natural gas in northeast Alberta; Conventional, which includes the development and production of conventional crude oil, NGLs and natural gas in Alberta and Saskatchewan, including the heavy oil assets at Pelican Lake, the carbon dioxide (CO2) enhanced oil recovery (EOR) project at Weyburn and emerging tight oil opportunities; Refining and Marketing, which includes transporting and selling crude oil and natural gas and joint ownership of refineries in the U.S., as well as Corporate and Eliminations.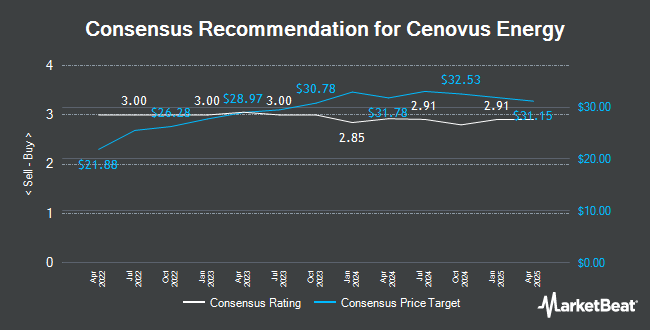 Receive News & Ratings for Cenovus Energy Daily - Enter your email address below to receive a concise daily summary of the latest news and analysts' ratings for Cenovus Energy and related companies with MarketBeat.com's FREE daily email newsletter.