Rewalk Robotics (NASDAQ:RWLK)'s stock had its "buy" rating reaffirmed by stock analysts at Canaccord Genuity in a report issued on Monday. They currently have a $2.00 target price on the medical device company's stock. Canaccord Genuity's target price would suggest a potential upside of 60.00% from the stock's current price.
The analysts wrote, "We maintain our BUY rating on ReWalk Robotics following Q4/17 results. ReWalk reported revenues of $1.5M, below CG/consensus of $2.1M/$1.9M. Although the shipment of 23 systems was well below our expectation for 42 systems, ReWalk sales benefited from a favorable mix of system purchases and rental conversions in the quarter. Despite the weaker than anticipated system placements, we were encouraged to see another quarter of strong demand and another positive coverage decision with reimbursement through Italy's worker's compensation group. While commercial unit placements continue to be lumpy Q/Q we continue to view the broader pipeline (Restore soft suit for stroke) positively in the H2/18 and beyond. Positive momentum in demand and reimbursement decisions: In Q4/17 the company placed 23 total units, down from 39 Y/Y but up Q/Q from 16.""
Several other equities research analysts also recently commented on the stock. Oppenheimer set a $3.00 target price on shares of Rewalk Robotics and gave the company a "buy" rating in a research note on Tuesday, December 26th. Zacks Investment Research downgraded shares of Rewalk Robotics from a "buy" rating to a "hold" rating in a research note on Thursday, January 4th. Piper Jaffray Companies restated a "buy" rating and issued a $3.00 target price on shares of Rewalk Robotics in a research note on Sunday, January 7th. ValuEngine upgraded shares of Rewalk Robotics from a "strong sell" rating to a "sell" rating in a research note on Friday, February 2nd. Finally, Barclays restated a "sell" rating and issued a $1.00 target price on shares of Rewalk Robotics in a research note on Friday. Two equities research analysts have rated the stock with a sell rating, one has given a hold rating and four have assigned a buy rating to the company's stock. Rewalk Robotics presently has an average rating of "Hold" and a consensus price target of $2.58.
Shares of Rewalk Robotics (
NASDAQ RWLK
) traded up $0.08 during trading on Monday, reaching $1.25. 332,941 shares of the company's stock traded hands, compared to its average volume of 275,331. The company has a market cap of $35.26, a price-to-earnings ratio of -0.98 and a beta of 0.54. The company has a debt-to-equity ratio of 2.41, a current ratio of 2.15 and a quick ratio of 1.78. Rewalk Robotics has a 12-month low of $1.05 and a 12-month high of $3.20.
Rewalk Robotics (NASDAQ:RWLK) last announced its quarterly earnings results on Thursday, March 8th. The medical device company reported ($0.20) earnings per share (EPS) for the quarter, beating the Thomson Reuters' consensus estimate of ($0.26) by $0.06. Rewalk Robotics had a negative net margin of 318.81% and a negative return on equity of 678.44%. The firm had revenue of $1.52 million for the quarter, compared to analyst estimates of $1.76 million.
A hedge fund recently raised its stake in Rewalk Robotics stock. Advisor Group Inc. increased its stake in shares of Rewalk Robotics Ltd (NASDAQ:RWLK) by 73.0% during the 4th quarter, according to the company in its most recent 13F filing with the Securities & Exchange Commission. The institutional investor owned 314,650 shares of the medical device company's stock after buying an additional 132,750 shares during the period. Advisor Group Inc. owned 1.09% of Rewalk Robotics worth $347,000 at the end of the most recent quarter. Institutional investors own 2.60% of the company's stock.
ILLEGAL ACTIVITY NOTICE: This report was first published by StockNewsTimes and is owned by of StockNewsTimes. If you are accessing this report on another website, it was illegally copied and reposted in violation of international trademark & copyright legislation. The original version of this report can be read at https://stocknewstimes.com/2018/03/12/rewalk-robotics-rwlk-earns-buy-rating-from-canaccord-genuity.html.
Rewalk Robotics Company Profile
ReWalk Robotics Ltd. is a medical device company. The Company is engaged in designing, developing and commercializing exoskeletons that allow individuals with mobility impairments or other medical conditions the ability to stand and walk once again. The Company offers ReWalk, which is an exoskeleton that uses its tilt-sensor technology and an on-board computer and motion sensors to drive motorized legs that power movement.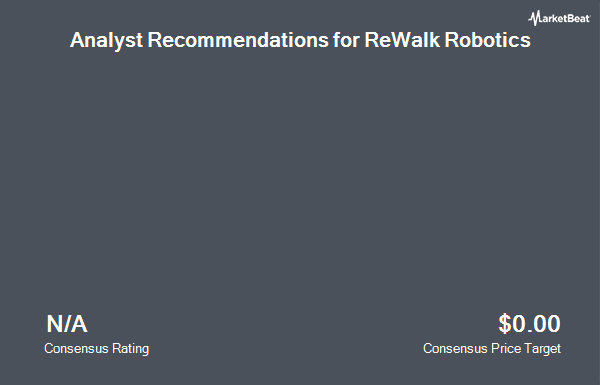 Receive News & Ratings for Rewalk Robotics Daily - Enter your email address below to receive a concise daily summary of the latest news and analysts' ratings for Rewalk Robotics and related companies with MarketBeat.com's FREE daily email newsletter.