Ohio Valley Banc (NASDAQ:OVBC) posted its quarterly earnings data on Tuesday, January 30th. The bank reported $0.57 earnings per share for the quarter, Bloomberg Earnings reports. The firm had revenue of $12.46 million for the quarter. Ohio Valley Banc had a net margin of 13.62% and a return on equity of 8.54%.
Shares of Ohio Valley Banc (OVBC) opened at $40.35 on Friday. The company has a current ratio of 0.95, a quick ratio of 0.95 and a debt-to-equity ratio of 0.41. The firm has a market cap of $190.51, a price-to-earnings ratio of 25.22 and a beta of 0.20. Ohio Valley Banc has a 52-week low of $28.00 and a 52-week high of $43.85.
The business also recently disclosed a quarterly dividend, which was paid on Saturday, February 10th. Stockholders of record on Friday, January 26th were given a dividend of $0.21 per share. This represents a $0.84 annualized dividend and a dividend yield of 2.08%. The ex-dividend date was Thursday, January 25th. Ohio Valley Banc's dividend payout ratio (DPR) is currently 52.50%.
Separately,
ValuEngine
cut shares of Ohio Valley Banc from a "buy" rating to a "hold" rating in a research report on Friday, December 1st.
Institutional investors have recently bought and sold shares of the company. The Manufacturers Life Insurance Company purchased a new stake in shares of Ohio Valley Banc during the 2nd quarter valued at $181,000. California State Teachers Retirement System purchased a new stake in shares of Ohio Valley Banc during the 2nd quarter valued at $260,000. State Street Corp purchased a new stake in shares of Ohio Valley Banc during the 2nd quarter valued at $1,499,000. Finally, Vanguard Group Inc. raised its position in Ohio Valley Banc by 23.8% in the 2nd quarter. Vanguard Group Inc. now owns 43,687 shares of the bank's stock worth $1,575,000 after purchasing an additional 8,401 shares during the period. Hedge funds and other institutional investors own 13.98% of the company's stock.
ILLEGAL ACTIVITY WARNING: This piece was first reported by StockNewsTimes and is the sole property of of StockNewsTimes. If you are viewing this piece on another website, it was copied illegally and reposted in violation of US and international copyright and trademark laws. The legal version of this piece can be read at https://stocknewstimes.com/2018/02/23/ohio-valley-banc-ovbc-issues-earnings-results.html.
Ohio Valley Banc Company Profile
Ohio Valley Banc Corp. is a financial holding company. The Company has a banking subsidiary, The Ohio Valley Bank Company (the Bank). The Company's financial service operations are aggregated in two segments: banking and consumer finance. The Company also owns nonbank subsidiaries, which include Loan Central, Inc, which engages in lending; Ohio Valley Financial Services Agency, LLC, which is used to facilitate the receipt of commissions on insurances sold by the Bank and Loan Central, and OVBC Captive, Inc, a limited purpose property and casualty insurance company.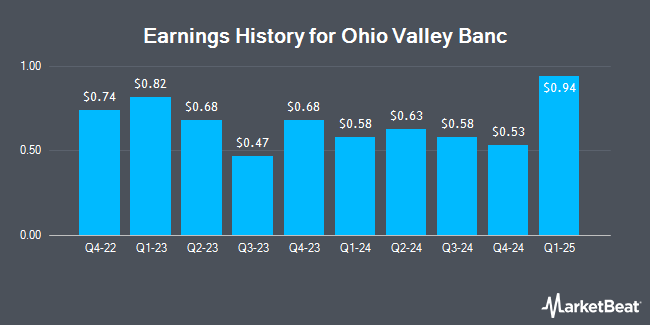 Receive News & Ratings for Ohio Valley Banc Daily - Enter your email address below to receive a concise daily summary of the latest news and analysts' ratings for Ohio Valley Banc and related companies with MarketBeat.com's FREE daily email newsletter.