Synopsys (NASDAQ:SNPS) updated its second quarter earnings guidance on Wednesday. The company provided earnings per share guidance of $1.06-1.10 for the period, compared to the Thomson Reuters consensus earnings per share estimate of $0.84. The company issued revenue guidance of $765-790 million, compared to the consensus revenue estimate of $715.40 million.Synopsys also updated its FY18 guidance to $3.67-3.74 EPS.
Synopsys (NASDAQ SNPS) traded down $1.30 during trading on Wednesday, reaching $88.46. The company's stock had a trading volume of 1,472,973 shares, compared to its average volume of 1,028,079. The company has a current ratio of 1.04, a quick ratio of 1.04 and a debt-to-equity ratio of 0.04. The firm has a market capitalization of $13,380.00, a price-to-earnings ratio of 104.59, a P/E/G ratio of 3.97 and a beta of 1.04. Synopsys has a one year low of $69.42 and a one year high of $94.80.
Synopsys (NASDAQ:SNPS) last posted its quarterly earnings data on Wednesday, November 29th. The semiconductor company reported $0.69 EPS for the quarter, topping analysts' consensus estimates of $0.57 by $0.12. The company had revenue of $696.60 million for the quarter, compared to analyst estimates of $650.72 million. Synopsys had a return on equity of 5.78% and a net margin of 5.01%. The business's revenue was up 9.9% on a year-over-year basis. During the same quarter in the previous year, the firm earned $0.77 earnings per share. equities analysts forecast that Synopsys will post 2.24 EPS for the current year.
SNPS has been the topic of a number of recent analyst reports. TheStreet lowered Synopsys from an a rating to a c+ rating in a research note on Wednesday, November 29th. Needham & Company LLC boosted their price objective on Synopsys from $83.00 to $100.00 and gave the stock a buy rating in a research note on Friday, December 1st. JPMorgan Chase & Co. reissued an underweight rating on shares of Synopsys in a research note on Thursday, December 7th. KeyCorp reissued an overweight rating and issued a $106.00 price objective (up previously from $86.00) on shares of Synopsys in a research note on Thursday, November 30th. Finally, BidaskClub lowered Synopsys from a buy rating to a hold rating in a research note on Friday, February 2nd. Two research analysts have rated the stock with a sell rating, two have given a hold rating and seven have issued a buy rating to the stock. Synopsys currently has a consensus rating of Hold and an average price target of $96.89.
In other news, Director Chrysostomos L. Nikias sold 21,074 shares of the company's stock in a transaction on Friday, December 1st. The stock was sold at an average price of $89.78, for a total transaction of $1,892,023.72. The sale was disclosed in a document filed with the SEC, which is accessible through the SEC website. Also, CEO Chi-Foon Chan sold 3,750 shares of the company's stock in a transaction on Friday, December 1st. The shares were sold at an average price of $89.78, for a total value of $336,675.00. The disclosure for this sale can be found here. Insiders have sold 65,442 shares of company stock worth $5,779,693 in the last ninety days. 1.82% of the stock is currently owned by insiders.
COPYRIGHT VIOLATION WARNING: This story was originally posted by StockNewsTimes and is owned by of StockNewsTimes. If you are accessing this story on another site, it was stolen and reposted in violation of international copyright & trademark legislation. The correct version of this story can be viewed at https://stocknewstimes.com/2018/02/21/synopsys-snps-updates-q2-earnings-guidance.html.
About Synopsys
Synopsys, Inc provides software, intellectual property (IP) and services. The Company supplies the electronic design automation (EDA) software that engineers use to design and test integrated circuits, also known as chips. It also offers IP products, which are pre-designed circuits that engineers use as components of larger chip designs rather than designing those circuits themselves.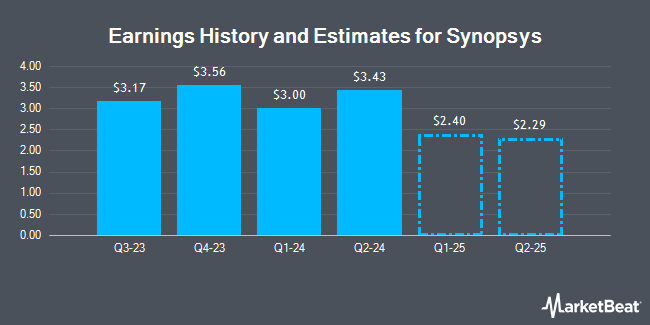 Receive News & Ratings for Synopsys Daily - Enter your email address below to receive a concise daily summary of the latest news and analysts' ratings for Synopsys and related companies with MarketBeat.com's FREE daily email newsletter.