Polaris Capital Management LLC raised its stake in Greenbrier Companies Inc (NYSE:GBX) by 250.5% during the fourth quarter, according to the company in its most recent Form 13F filing with the SEC. The institutional investor owned 184,010 shares of the transportation company's stock after buying an additional 131,510 shares during the quarter. Polaris Capital Management LLC owned about 0.64% of Greenbrier Companies worth $2,414,000 at the end of the most recent reporting period.
A number of other institutional investors and hedge funds also recently made changes to their positions in GBX. Eqis Capital Management Inc. acquired a new position in Greenbrier Companies during the fourth quarter worth $206,000. C M Bidwell & Associates Ltd. acquired a new position in shares of Greenbrier Companies in the fourth quarter valued at $245,000. Macquarie Group Ltd. acquired a new position in shares of Greenbrier Companies in the third quarter valued at $265,000. Piedmont Investment Advisors LLC acquired a new position in shares of Greenbrier Companies in the second quarter valued at $284,000. Finally, Jennison Associates LLC acquired a new position in shares of Greenbrier Companies in the third quarter valued at $285,000.
GBX has been the subject of a number of recent research reports. KeyCorp reissued a "buy" rating and issued a $60.00 target price on shares of Greenbrier Companies in a research report on Tuesday, October 24th. Stifel Nicolaus set a $55.00 price objective on shares of Greenbrier Companies and gave the stock a "buy" rating in a research report on Friday, February 9th. Seaport Global Securities initiated coverage on shares of Greenbrier Companies in a research report on Thursday, January 4th. They set a "buy" rating and a $65.00 price objective for the company. Finally, ValuEngine raised Greenbrier Companies from a "buy" rating to a "strong-buy" rating in a research note on Sunday, December 31st. One research analyst has rated the stock with a sell rating, one has issued a hold rating, five have assigned a buy rating and two have issued a strong buy rating to the company. The company presently has a consensus rating of "Buy" and an average target price of $58.29.
In other Greenbrier Companies news, EVP Alejandro Centurion sold 5,000 shares of the stock in a transaction that occurred on Wednesday, January 17th. The shares were sold at an average price of $52.00, for a total transaction of $260,000.00. Following the completion of the sale, the executive vice president now owns 13,523 shares of the company's stock, valued at approximately $703,196. The transaction was disclosed in a legal filing with the Securities & Exchange Commission, which is accessible through
the SEC website
. Corporate insiders own 2.46% of the company's stock.
Greenbrier Companies Inc (NYSE:GBX) traded up $0.70 during trading on Friday, hitting $51.60. The stock had a trading volume of 533,887 shares, compared to its average volume of 386,592. Greenbrier Companies Inc has a one year low of $40.45 and a one year high of $54.45. The company has a debt-to-equity ratio of 0.47, a current ratio of 2.96 and a quick ratio of 2.04. The firm has a market capitalization of $1,480.97, a P/E ratio of 13.30, a P/E/G ratio of 1.32 and a beta of 1.67.
Greenbrier Companies (NYSE:GBX) last released its earnings results on Friday, January 5th. The transportation company reported $0.90 earnings per share for the quarter, beating analysts' consensus estimates of $0.88 by $0.02. The business had revenue of $559.50 million during the quarter, compared to the consensus estimate of $591.05 million. Greenbrier Companies had a net margin of 5.39% and a return on equity of 10.71%. The company's revenue for the quarter was up 1.3% compared to the same quarter last year. During the same quarter in the prior year, the firm posted $0.79 EPS. equities research analysts predict that Greenbrier Companies Inc will post 4.12 EPS for the current fiscal year.
The company also recently announced a quarterly dividend, which was paid on Friday, February 16th. Shareholders of record on Friday, January 26th were given a dividend of $0.23 per share. This represents a $0.92 dividend on an annualized basis and a yield of 1.78%. The ex-dividend date of this dividend was Thursday, January 25th. Greenbrier Companies's dividend payout ratio is presently 24.86%.
WARNING: This piece of content was reported by StockNewsTimes and is the property of of StockNewsTimes. If you are reading this piece of content on another domain, it was copied illegally and republished in violation of international trademark & copyright laws. The correct version of this piece of content can be accessed at https://stocknewstimes.com/2018/02/18/polaris-capital-management-llc-acquires-131510-shares-of-greenbrier-companies-inc-gbx.html.
Greenbrier Companies Profile
The Greenbrier Companies, Inc is a designer, manufacturer and marketer of railroad freight car equipment in North America and Europe; a manufacturer and marketer of marine barges in North America; a provider of wheel services, parts, leasing and other services to the railroad and related transportation industries in North America, and a provider of railcar repair, refurbishment and retrofitting services in North America through a joint venture partnership.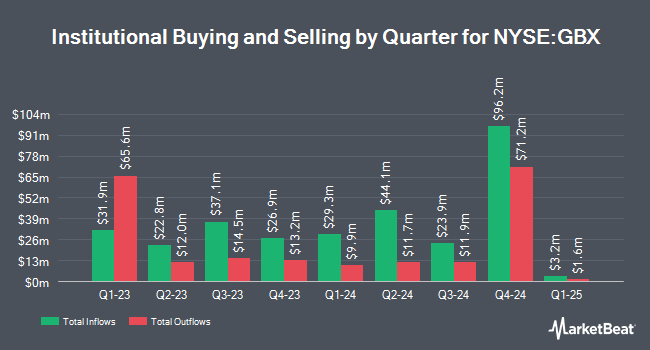 Receive News & Ratings for Greenbrier Companies Daily - Enter your email address below to receive a concise daily summary of the latest news and analysts' ratings for Greenbrier Companies and related companies with MarketBeat.com's FREE daily email newsletter.