Roper Technologies (NYSE:ROP) updated its first quarter earnings guidance on Friday. The company provided EPS guidance of $2.44-2.50 for the period, compared to the Thomson Reuters consensus EPS estimate of $2.31. Roper Technologies also updated its FY18 guidance to $10.88-11.20 EPS.
A number of equities analysts have issued reports on the company. Citigroup reaffirmed an outperform rating and set a $335.00 price target (up from $275.00) on shares of Roper Technologies in a research note on Monday, February 5th. Zacks Investment Research lowered Roper Technologies from a buy rating to a hold rating in a research note on Thursday, February 1st. Robert W. Baird reaffirmed a hold rating on shares of Roper Technologies in a research note on Monday, February 5th. Oppenheimer reaffirmed a buy rating on shares of Roper Technologies in a research note on Monday, October 30th. Finally, Royal Bank of Canada increased their price objective on Roper Technologies to $319.00 and gave the company an outperform rating in a research report on Monday, February 5th. Four investment analysts have rated the stock with a hold rating and nine have assigned a buy rating to the company's stock. Roper Technologies presently has an average rating of Buy and a consensus target price of $285.38.
Shares of Roper Technologies (NYSE ROP) traded up $2.13 during trading hours on Friday, hitting $261.53. The stock had a trading volume of 637,070 shares, compared to its average volume of 515,401. Roper Technologies has a one year low of $194.03 and a one year high of $290.42. The firm has a market cap of $26,770.73, a P/E ratio of 27.88, a PEG ratio of 1.91 and a beta of 1.08. The company has a debt-to-equity ratio of 0.63, a current ratio of 0.87 and a quick ratio of 0.77.
Roper Technologies (NYSE:ROP) last announced its quarterly earnings data on Friday, February 2nd. The industrial products company reported $2.70 EPS for the quarter, beating analysts' consensus estimates of $2.61 by $0.09. The company had revenue of $1.23 billion during the quarter, compared to the consensus estimate of $1.24 billion. Roper Technologies had a return on equity of 15.28% and a net margin of 21.09%. The company's quarterly revenue was up 21.2% compared to the same quarter last year. During the same quarter in the prior year, the firm earned $1.86 EPS. research analysts expect that Roper Technologies will post 11.09 earnings per share for the current fiscal year.
The firm also recently announced a quarterly dividend, which was paid on Tuesday, January 23rd. Stockholders of record on Tuesday, January 9th were issued a $0.4125 dividend. The ex-dividend date of this dividend was Monday, January 8th. This represents a $1.65 dividend on an annualized basis and a dividend yield of 0.63%. This is a positive change from Roper Technologies's previous quarterly dividend of $0.35. Roper Technologies's dividend payout ratio is presently 17.59%.
In other news, Director Robert D. Johnson sold 1,200 shares of the stock in a transaction on Friday, December 8th. The stock was sold at an average price of $260.03, for a total value of $312,036.00. Following the completion of the sale, the director now owns 9,700 shares in the company, valued at $2,522,291. The transaction was disclosed in a filing with the Securities & Exchange Commission, which is available through the SEC website. Also, CEO Brian D. Jellison sold 29,606 shares of the stock in a transaction on Tuesday, January 23rd. The shares were sold at an average price of $277.03, for a total value of $8,201,750.18. Following the completion of the sale, the chief executive officer now owns 1,564,778 shares of the company's stock, valued at approximately $433,490,449.34. The disclosure for this sale can be found here. Insiders sold 439,526 shares of company stock valued at $120,362,826 in the last 90 days. Corporate insiders own 2.50% of the company's stock.
ILLEGAL ACTIVITY NOTICE: This piece was originally published by StockNewsTimes and is owned by of StockNewsTimes. If you are accessing this piece on another site, it was stolen and reposted in violation of United States and international trademark & copyright legislation. The correct version of this piece can be accessed at https://stocknewstimes.com/2018/02/11/roper-technologies-rop-updates-q1-earnings-guidance.html.
About Roper Technologies
Roper Technologies, Inc is a technology company. The Company operates businesses that design and develop software and engineered products and solutions for various end markets, including healthcare, transportation, commercial construction, food, energy, water, education and academic research. The Company operates in four segments: Medical & Scientific Imaging, which offers products and software in medical applications, and digital imaging products; RF Technology, which provides radio frequency identification (RFID) communication technology and software solutions; Industrial Technology, which produces fluid handling pumps, materials analysis equipment and consumables, leak testing equipment, flow measurement and metering equipment, and Energy Systems & Controls, which produces control systems, fluid properties testing equipment, industrial valves and controls, vibration sensors and controls, and non-destructive inspection and measurement products and solutions.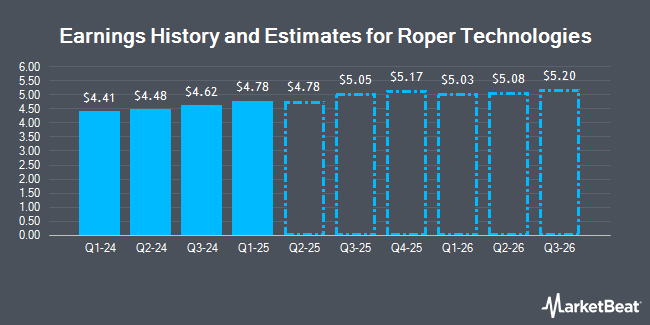 Receive News & Ratings for Roper Technologies Daily - Enter your email address below to receive a concise daily summary of the latest news and analysts' ratings for Roper Technologies and related companies with MarketBeat.com's FREE daily email newsletter.