Shares of Genel Energy PLC (LON:GENL) have been assigned an average recommendation of "Hold" from the eight ratings firms that are currently covering the stock, MarketBeat.com reports. Two analysts have rated the stock with a sell rating, four have issued a hold rating and two have issued a buy rating on the company. The average 1 year price objective among analysts that have updated their coverage on the stock in the last year is GBX 133.67 ($1.87).
GENL has been the topic of several recent research reports. JPMorgan Chase & Co. reaffirmed an "overweight" rating and issued a GBX 109 ($1.53) price objective on shares of Genel Energy in a research note on Friday, October 20th. Deutsche Bank dropped their target price on shares of Genel Energy from GBX 160 ($2.24) to GBX 142 ($1.99) and set a "hold" rating on the stock in a research report on Friday, January 26th. Finally, Canaccord Genuity lifted their target price on shares of Genel Energy from GBX 200 ($2.80) to GBX 210 ($2.94) and gave the stock a "speculative buy" rating in a research report on Monday, January 29th.
Shares of Genel Energy (LON:GENL) traded down GBX 5.40 ($0.08) on Tuesday, hitting GBX 111.40 ($1.56). 523,360 shares of the stock traded hands, compared to its average volume of 592,059. The firm has a market cap of $310.13 and a PE ratio of -35.37. Genel Energy has a 12 month low of GBX 54.50 ($0.76) and a 12 month high of GBX 166.50 ($2.33).
TRADEMARK VIOLATION WARNING: "Genel Energy PLC (GENL) Given Consensus Rating of "Hold" by Analysts" was originally posted by StockNewsTimes and is owned by of StockNewsTimes. If you are viewing this article on another publication, it was illegally stolen and reposted in violation of United States & international trademark and copyright legislation. The original version of this article can be viewed at https://stocknewstimes.com/2018/02/11/genel-energy-plc-genl-given-consensus-rating-of-hold-by-analysts.html.
Genel Energy Company Profile
Genel Energy Plc is a holding company. The Company is engaged in the business of oil and gas exploration and production in the Kurdistan Region of Iraq (KRI). The Company's segments include Kurdistan and Africa. The Company has interests in approximately two producing fields in the Kurdistan Region of Iraq, Taq Taq and Tawke, with access to local and international markets.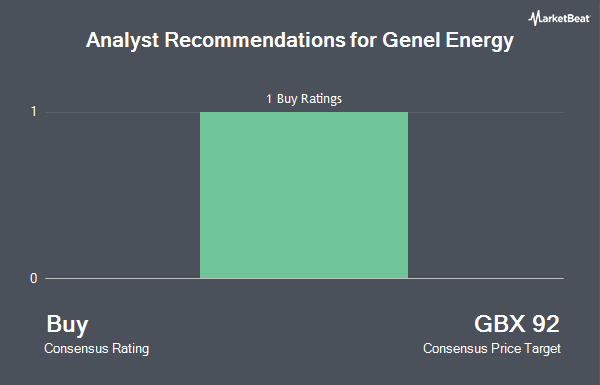 Receive News & Ratings for Genel Energy Daily - Enter your email address below to receive a concise daily summary of the latest news and analysts' ratings for Genel Energy and related companies with MarketBeat.com's FREE daily email newsletter.