Black Hills (NYSE:BKH) updated its FY17 earnings guidance on Friday. The company provided EPS guidance of $3.30-3.50 for the period, compared to the Thomson Reuters consensus EPS estimate of $3.36.
Shares of Black Hills (NYSE:BKH) opened at $52.04 on Friday. The firm has a market capitalization of $2,783.36, a price-to-earnings ratio of 15.58, a P/E/G ratio of 3.76 and a beta of 0.55. Black Hills has a twelve month low of $50.71 and a twelve month high of $72.02. The company has a current ratio of 0.69, a quick ratio of 0.47 and a debt-to-equity ratio of 1.73.
Black Hills (NYSE:BKH) last announced its quarterly earnings results on Thursday, February 1st. The utilities provider reported $0.98 earnings per share for the quarter, missing analysts' consensus estimates of $1.07 by ($0.09). The business had revenue of $455.30 million for the quarter, compared to analyst estimates of $504.05 million. Black Hills had a return on equity of 10.14% and a net margin of 10.83%. equities analysts anticipate that Black Hills will post 3.41 earnings per share for the current fiscal year.
The company also recently announced a quarterly dividend, which will be paid on Thursday, March 1st. Shareholders of record on Thursday, February 15th will be given a dividend of $0.475 per share. The ex-dividend date of this dividend is Wednesday, February 14th. This represents a $1.90 annualized dividend and a dividend yield of 3.65%. Black Hills's dividend payout ratio is currently 56.89%.
Several research analysts have commented on BKH shares. JPMorgan Chase & Co. downgraded shares of Black Hills from an overweight rating to a neutral rating and set a $56.00 price target for the company. in a report on Wednesday. Williams Capital upgraded shares of Black Hills from a hold rating to a buy rating and decreased their price objective for the company from $70.00 to $62.00 in a research report on Wednesday, January 10th. Royal Bank of Canada reduced their price target on shares of Black Hills from $72.00 to $64.00 and set an outperform rating on the stock in a research report on Monday, November 6th. Wells Fargo & Co started coverage on shares of Black Hills in a research report on Friday, October 27th. They set a market perform rating and a $58.00 price objective on the stock. Finally, Credit Suisse Group reiterated an outperform rating and set a $66.00 price objective (down previously from $77.00) on shares of Black Hills in a research report on Monday, November 6th. They noted that the move was a valuation call. Six equities research analysts have rated the stock with a hold rating and four have issued a buy rating to the company. The company presently has a consensus rating of Hold and an average price target of $64.50.
WARNING: This article was reported by StockNewsTimes and is owned by of StockNewsTimes. If you are accessing this article on another domain, it was illegally stolen and republished in violation of United States and international trademark and copyright laws. The original version of this article can be accessed at https://stocknewstimes.com/2018/02/11/black-hills-bkh-issues-fy17-earnings-guidance.html.
Black Hills Company Profile
Black Hills Corporation is a holding company. The Company is an integrated energy company, which is focused primarily on regulated utilities. The Company operates through segments, including Electric Utilities, Gas Utilities, Power Generation, Mining, Oil and Gas, and Corporate. As of December 31, 2016, the Electric Utilities segment generated, transmitted and distributed electricity to approximately 208,500 customers in South Dakota, Wyoming, Colorado and Montana.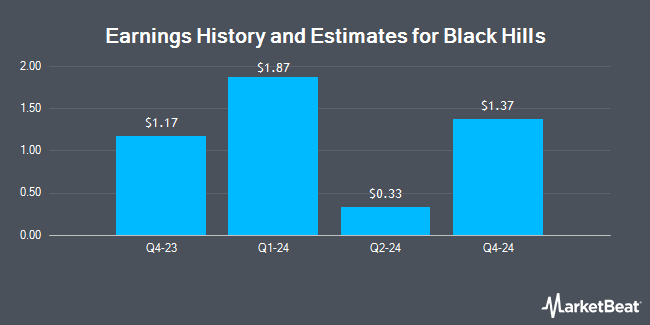 Receive News & Ratings for Black Hills Daily - Enter your email address below to receive a concise daily summary of the latest news and analysts' ratings for Black Hills and related companies with MarketBeat.com's FREE daily email newsletter.