Yatra Online (NASDAQ:YTRA) was upgraded by Zacks Investment Research from a "sell" rating to a "hold" rating in a research note issued on Sunday.
According to Zacks, "Yatra Online, Inc. provides online travel agency services. The company operates through website www.yatra.com, mobile applications and associated platforms to book airline, railway and bus tickets as well as car and hotel accommodations for customers. Its product portfolio includes flights, hotels, trains, holidays, bus and activities. Yatra Online, Inc. is headquatered in New Delhi, India. "
Separately, Oppenheimer reissued a "buy" rating and issued a $13.00 target price (down previously from $15.00) on shares of Yatra Online in a report on Monday, November 6th. One equities research analyst has rated the stock with a hold rating and five have issued a buy rating to the company's stock. Yatra Online currently has a consensus rating of "Buy" and an average target price of $14.56.
Yatra Online (
NASDAQ YTRA
) opened at $6.77 on Friday. The company has a market capitalization of $235.45 and a price-to-earnings ratio of -1.42. The company has a quick ratio of 0.83, a current ratio of 0.83 and a debt-to-equity ratio of -1.47. Yatra Online has a twelve month low of $6.55 and a twelve month high of $12.85.
Yatra Online (NASDAQ:YTRA) last posted its earnings results on Tuesday, November 14th. The technology company reported ($0.27) EPS for the quarter, beating the consensus estimate of ($0.36) by $0.09. Yatra Online had a negative return on equity of 453.63% and a negative net margin of 88.49%. equities analysts expect that Yatra Online will post -1.22 EPS for the current fiscal year.
A number of hedge funds and other institutional investors have recently added to or reduced their stakes in the business. Whetstone Capital Advisors LLC acquired a new position in Yatra Online in the third quarter valued at $3,665,000. First Trust Advisors LP acquired a new stake in shares of Yatra Online during the third quarter worth about $3,242,000. Legato Capital Management LLC acquired a new stake in shares of Yatra Online during the third quarter worth about $1,204,000. Ashford Capital Management Inc. boosted its stake in shares of Yatra Online by 19.0% during the second quarter. Ashford Capital Management Inc. now owns 71,410 shares of the technology company's stock worth $803,000 after buying an additional 11,410 shares during the period. Finally, Ameriprise Financial Inc. acquired a new stake in shares of Yatra Online during the second quarter worth about $796,000. Institutional investors own 14.88% of the company's stock.
TRADEMARK VIOLATION WARNING: This report was originally reported by StockNewsTimes and is owned by of StockNewsTimes. If you are accessing this report on another website, it was copied illegally and republished in violation of United States & international trademark & copyright legislation. The original version of this report can be viewed at https://stocknewstimes.com/2018/01/23/zacks-investment-research-upgrades-yatra-online-ytra-to-hold.html.
Yatra Online Company Profile
Yatra Online, Inc is an India-based consumer travel platform and online travel agent. The Company's segments include Air Ticketing, Hotels and Packages, and Others. Through Internet and mobile-based platform and call-centers, the Company provides the facility to book and service international and domestic air tickets to customer through business-to-consumer (B2C) and business-to-business-to-consumer (B2B2C) channel.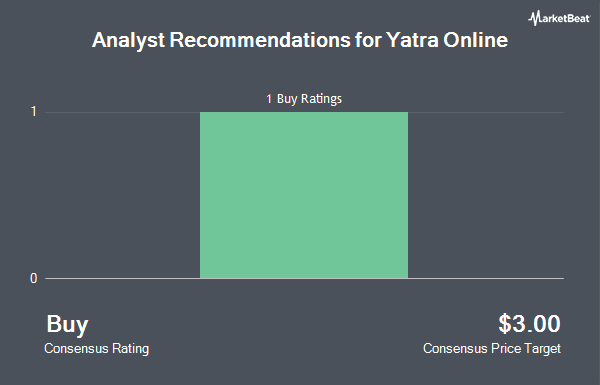 Receive News & Ratings for Yatra Online Daily - Enter your email address below to receive a concise daily summary of the latest news and analysts' ratings for Yatra Online and related companies with MarketBeat.com's FREE daily email newsletter.