WNS (NYSE:WNS) updated its FY18 earnings guidance on Thursday. The company provided earnings per share guidance of $2.18-2.22 for the period, compared to the Thomson Reuters consensus earnings per share estimate of $2.02. The company issued revenue guidance of $720-726 million, compared to the consensus revenue estimate of $718.56 million.
Several research analysts have commented on the stock. Robert W. Baird downgraded shares of WNS from an outperform rating to a neutral rating in a report on Friday. Loop Capital increased their price objective on shares of WNS to $50.00 and gave the company a buy rating in a report on Friday. SunTrust Banks increased their price target on shares of WNS to $50.00 and gave the company a buy rating in a report on Friday. Barrington Research increased their price target on shares of WNS from $44.00 to $53.00 and gave the company an outperform rating in a report on Friday. Finally, Citigroup reaffirmed a buy rating and issued a $50.00 price target (up previously from $43.00) on shares of WNS in a report on Thursday. Two analysts have rated the stock with a hold rating, twelve have issued a buy rating and one has given a strong buy rating to the company's stock. WNS has an average rating of Buy and an average target price of $46.85.
WNS (WNS) opened at $44.08 on Friday. The company has a debt-to-equity ratio of 0.18, a current ratio of 2.37 and a quick ratio of 2.37. WNS has a 1-year low of $27.43 and a 1-year high of $46.00. The company has a market cap of $2,220.00, a PE ratio of 47.40, a P/E/G ratio of 1.88 and a beta of 1.01.
WNS (NYSE:WNS) last announced its quarterly earnings results on Thursday, January 18th. The business services provider reported $0.56 EPS for the quarter, beating the Zacks' consensus estimate of $0.50 by $0.06. WNS had a net margin of 7.24% and a return on equity of 19.23%. The firm had revenue of $185.20 million during the quarter, compared to the consensus estimate of $175.85 million. During the same quarter last year, the firm earned $0.49 EPS. The firm's revenue for the quarter was up 32.5% compared to the same quarter last year. research analysts expect that WNS will post 1.59 earnings per share for the current year.
WNS announced that its Board of Directors has initiated a stock buyback program on Thursday, January 18th that permits the company to repurchase 3,300,000 shares. This repurchase authorization permits the business services provider to reacquire shares of its stock through open market purchases. Shares repurchase programs are typically an indication that the company's board of directors believes its shares are undervalued.
TRADEMARK VIOLATION NOTICE: This report was posted by StockNewsTimes and is owned by of StockNewsTimes. If you are reading this report on another publication, it was illegally copied and reposted in violation of US and international trademark & copyright laws. The original version of this report can be viewed at https://stocknewstimes.com/2018/01/20/wns-wns-updates-fy18-earnings-guidance.html.
WNS Company Profile
WNS (Holdings) Limited is a global provider of business process management (BPM) services. The Company offers data, voice, analytical and business transformation services. The Company's segments include WNS Global BPM and WNS Auto Claims BPM. Its operating segments include travel, insurance, banking and financial services, healthcare, utilities, retail and consumer products groups, auto claims and others.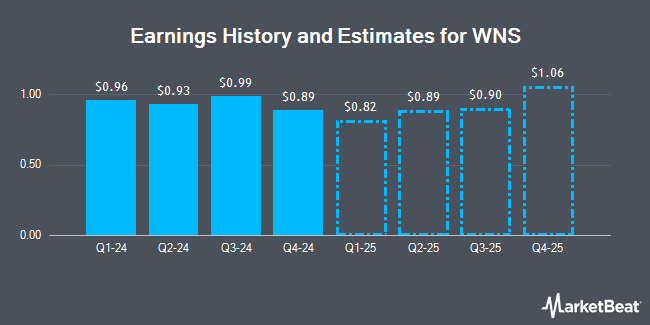 Receive News & Ratings for WNS Daily - Enter your email address below to receive a concise daily summary of the latest news and analysts' ratings for WNS and related companies with MarketBeat.com's FREE daily email newsletter.