Severn Trent Plc (LON:SVT) has received an average recommendation of "Hold" from the nine brokerages that are currently covering the stock, MarketBeat reports. Five investment analysts have rated the stock with a hold recommendation and four have issued a buy recommendation on the company. The average twelve-month price target among analysts that have covered the stock in the last year is GBX 2,365.71 ($32.08).
A number of equities analysts have recently issued reports on SVT shares. upgraded shares of Severn Trent to a "buy" rating and raised their target price for the stock from GBX 2,160 ($29.29) to GBX 2,300 ($31.19) in a research report on Monday, November 6th. Barclays restated an "equal weight" rating on shares of Severn Trent in a research report on Tuesday, November 14th. Deutsche Bank restated a "hold" rating and set a GBX 2,250 ($30.51) target price on shares of Severn Trent in a research report on Tuesday, November 7th. JPMorgan Chase & Co. lowered their target price on shares of Severn Trent from GBX 2,500 ($33.90) to GBX 2,250 ($30.51) and set a "neutral" rating on the stock in a research report on Thursday, December 7th. Finally, Credit Suisse Group restated a "neutral" rating and set a GBX 2,230 ($30.24) target price on shares of Severn Trent in a research report on Thursday, November 2nd.
Severn Trent (LON:SVT) opened at GBX 2,036 ($27.61) on Friday. The stock has a market cap of $4,810.00 and a P/E ratio of 1,655.28. Severn Trent has a 1 year low of GBX 2,033 ($27.57) and a 1 year high of GBX 2,575 ($34.92).
Severn Trent (LON:SVT) last announced its earnings results on Thursday, November 23rd. The company reported GBX 65.90 ($0.89) earnings per share (EPS) for the quarter, missing analysts' consensus estimates of GBX 66 ($0.90) by GBX (0.10) ($0.00). The business had revenue of £850.40 million for the quarter. Severn Trent had a return on equity of 31.14% and a net margin of 17.34%.
The company also recently disclosed a dividend, which was paid on Friday, January 5th. Investors of record on Thursday, November 30th were given a GBX 34.63 ($0.47) dividend. The ex-dividend date was Thursday, November 30th. This represents a yield of 1.64%.
TRADEMARK VIOLATION NOTICE: "Severn Trent Plc (SVT) Receives Consensus Recommendation of "Hold" from Analysts" was first posted by StockNewsTimes and is the property of of StockNewsTimes. If you are viewing this piece on another website, it was illegally stolen and reposted in violation of U.S. & international copyright legislation. The original version of this piece can be viewed at https://stocknewstimes.com/2018/01/12/severn-trent-plc-svt-receives-consensus-recommendation-of-hold-from-analysts.html.
About Severn Trent
Severn Trent Plc treats and provides water and removes wastewater in the United Kingdom and internationally. The Company provides clean water and wastewater services through its businesses, Severn Trent Water and Severn Trent Business Services. It operates through two segments: Regulated Water and Waste Water, and Business Services.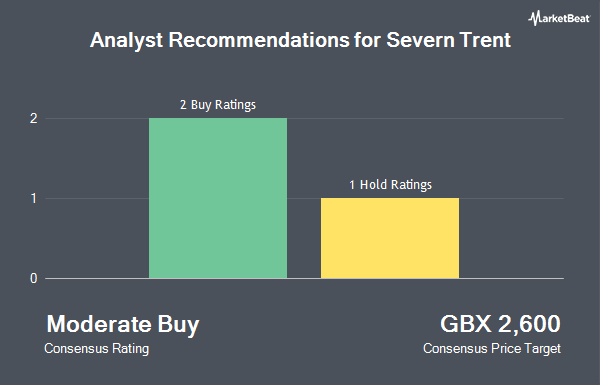 Receive News & Ratings for Severn Trent Daily - Enter your email address below to receive a concise daily summary of the latest news and analysts' ratings for Severn Trent and related companies with MarketBeat.com's FREE daily email newsletter.