Caretrust REIT Inc (NASDAQ:CTRE) declared a quarterly dividend on Tuesday, December 19th, Wall Street Journal reports. Shareholders of record on Friday, December 29th will be given a dividend of 0.185 per share by the real estate investment trust on Tuesday, January 16th. This represents a $0.74 annualized dividend and a yield of 4.72%. The ex-dividend date is Thursday, December 28th.
Shares of Caretrust REIT (CTRE) traded down $0.18 during trading hours on Thursday, reaching $15.69. The company's stock had a trading volume of 638,000 shares, compared to its average volume of 645,046. The firm has a market cap of $1,190.00, a price-to-earnings ratio of 34.11, a price-to-earnings-growth ratio of 2.50 and a beta of 0.67. The company has a current ratio of 1.60, a quick ratio of 1.60 and a debt-to-equity ratio of 0.81. Caretrust REIT has a 12-month low of $14.71 and a 12-month high of $19.86.
Caretrust REIT (NASDAQ:CTRE) last issued its quarterly earnings data on Wednesday, November 8th. The real estate investment trust reported $0.28 earnings per share for the quarter, missing analysts' consensus estimates of $0.29 by ($0.01). The business had revenue of $32.90 million for the quarter, compared to analyst estimates of $32.91 million. Caretrust REIT had a net margin of 25.68% and a return on equity of 5.76%. Caretrust REIT's revenue for the quarter was up 21.4% compared to the same quarter last year. During the same quarter last year, the business earned $0.28 EPS. equities analysts predict that Caretrust REIT will post 1.16 earnings per share for the current year.
A number of research firms recently issued reports on CTRE. Wells Fargo & Co upgraded Caretrust REIT from a "market perform" rating to an "outperform" rating and set a $20.00 price objective for the company in a research report on Tuesday, December 19th. BidaskClub cut Caretrust REIT from a "sell" rating to a "strong sell" rating in a research report on Tuesday, December 12th.
Zacks Investment Research
cut Caretrust REIT from a "buy" rating to a "hold" rating in a report on Tuesday, November 21st. BMO Capital Markets reaffirmed a "hold" rating and issued a $20.00 price target on shares of Caretrust REIT in a report on Thursday, November 9th. Finally, Stifel Nicolaus reiterated a "hold" rating and issued a $19.00 price objective (up from $17.00) on shares of Caretrust REIT in a research note on Thursday, November 9th. One research analyst has rated the stock with a sell rating, four have assigned a hold rating and four have issued a buy rating to the stock. Caretrust REIT currently has an average rating of "Hold" and an average price target of $19.88.
TRADEMARK VIOLATION WARNING: "Caretrust REIT Inc (CTRE) Plans $0.19 Quarterly Dividend" was originally published by StockNewsTimes and is the sole property of of StockNewsTimes. If you are accessing this piece on another publication, it was illegally stolen and reposted in violation of international copyright legislation. The original version of this piece can be accessed at https://stocknewstimes.com/2018/01/11/caretrust-reit-inc-plans-quarterly-dividend-of-0-19-ctre.html.
About Caretrust REIT
CareTrust REIT, Inc is a self-administered, self-managed real estate investment trust. The Company is engaged in the ownership, acquisition and leasing of healthcare-related properties. It makes investments in healthcare-related real estate assets. As of December 31, 2016, its real estate portfolio included 154 skilled nursing facilities (SNFs), SNF Campuses, assisted living facilities and independent living facilities.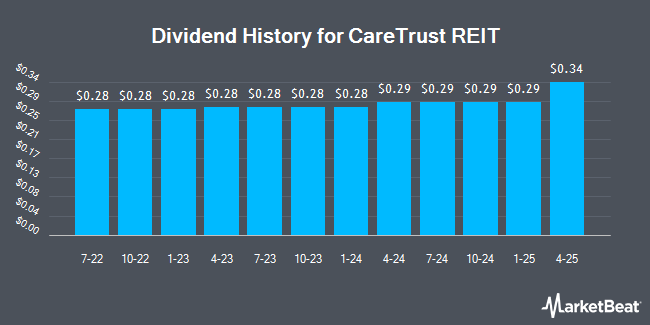 Receive News & Ratings for Caretrust REIT Daily - Enter your email address below to receive a concise daily summary of the latest news and analysts' ratings for Caretrust REIT and related companies with MarketBeat.com's FREE daily email newsletter.