Actuant (NYSE:ATU) updated its second quarter earnings guidance on Wednesday. The company provided earnings per share (EPS) guidance of $0.10-0.15 for the period, compared to the Thomson Reuters consensus estimate of $0.21. The company issued revenue guidance of $265-275 million, compared to the consensus revenue estimate of $265.84 million.Actuant also updated its FY18 guidance to $1.05-1.15 EPS.
Several brokerages recently issued reports on ATU. Zacks Investment Research lowered shares of Actuant from a buy rating to a hold rating in a research report on Friday, December 22nd. Robert W. Baird upped their target price on shares of Actuant from $26.00 to $27.00 and gave the stock an outperform rating in a research report on Thursday, September 28th. KeyCorp reissued a buy rating and issued a $29.00 price target (up from $28.00) on shares of Actuant in a research note on Monday, September 18th. SunTrust Banks reissued a hold rating and issued a $23.00 price target on shares of Actuant in a research note on Monday, October 2nd. Finally, BMO Capital Markets reissued a market perform rating and issued a $25.00 price target (up from $23.00) on shares of Actuant in a research note on Saturday, September 30th. Two analysts have rated the stock with a sell rating, eight have assigned a hold rating and three have assigned a buy rating to the company. The company presently has an average rating of Hold and a consensus target price of $25.11.
Shares of Actuant (ATU) traded up $0.65 during trading hours on Thursday, hitting $25.60. 296,530 shares of the stock traded hands, compared to its average volume of 425,341. The company has a market capitalization of $1,490.00, a P/E ratio of -23.06, a price-to-earnings-growth ratio of 2.56 and a beta of 1.64. The company has a current ratio of 1.80, a quick ratio of 1.35 and a debt-to-equity ratio of 1.02. Actuant has a 52-week low of $21.60 and a 52-week high of $29.17.
Actuant (NYSE:ATU) last issued its quarterly earnings data on Wednesday, December 20th. The industrial products company reported $0.19 EPS for the quarter, beating the consensus estimate of $0.17 by $0.02. Actuant had a net margin of 1.81% and a return on equity of 4.12%. The firm had revenue of $289.00 million during the quarter, compared to the consensus estimate of $269.22 million. During the same period in the prior year, the firm posted $0.20 earnings per share. The company's quarterly revenue was up 8.7% compared to the same quarter last year. equities research analysts expect that Actuant will post 1.07 earnings per share for the current fiscal year.
In related news, VP Ted Wozniak sold 6,000 shares of the stock in a transaction dated Friday, December 28th. The shares were sold at an average price of $25.66, for a total value of $153,960.00. Following the completion of the transaction, the vice president now directly owns 70,705 shares of the company's stock, valued at $1,814,290.30. The transaction was disclosed in a legal filing with the SEC, which is available through this link. 1.10% of the stock is owned by corporate insiders.
ILLEGAL ACTIVITY NOTICE: This news story was reported by StockNewsTimes and is owned by of StockNewsTimes. If you are viewing this news story on another domain, it was copied illegally and republished in violation of international copyright and trademark legislation. The legal version of this news story can be read at https://stocknewstimes.com/2018/01/11/actuant-atu-releases-q2-earnings-guidance.html.
About Actuant
Actuant Corporation designs, manufactures and distributes a range of industrial products and systems to various end markets. The Company operates through three segments: Industrial, Energy and Engineered Solutions. The Company's Industrial segment is primarily involved in the design, manufacture and distribution of branded hydraulic and mechanical tools to the maintenance, industrial, infrastructure and production automation markets.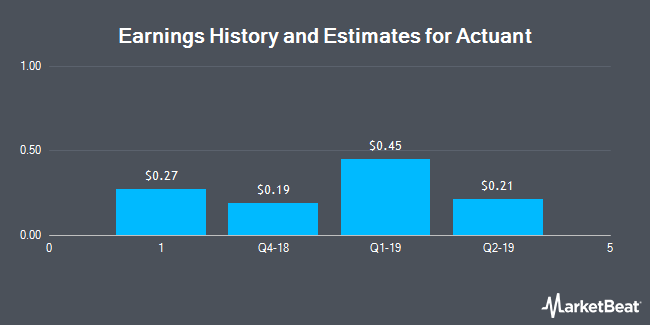 Receive News & Ratings for Actuant Daily - Enter your email address below to receive a concise daily summary of the latest news and analysts' ratings for Actuant and related companies with MarketBeat.com's FREE daily email newsletter.