Rio Tinto (LON:RIO) had its price target decreased by Barclays from GBX 4,500 ($60.57) to GBX 4,300 ($57.87) in a report released on Tuesday. Barclays currently has an overweight rating on the stock.
A number of other brokerages have also recently weighed in on RIO. HSBC reissued a buy rating and set a GBX 4,000 ($53.84) price objective on shares of Rio Tinto in a report on Monday. Macquarie reissued a buy rating on shares of Rio Tinto in a report on Monday, November 6th. Societe Generale raised Rio Tinto to a buy rating and raised their price objective for the company from GBX 3,600 ($48.45) to GBX 4,400 ($59.22) in a report on Thursday, November 9th. J P Morgan Chase & Co raised their price objective on Rio Tinto from GBX 4,000 ($53.84) to GBX 4,100 ($55.18) and gave the company an overweight rating in a report on Tuesday, September 5th. Finally, Morgan Stanley set a GBX 3,700 ($49.80) price objective on Rio Tinto and gave the company a neutral rating in a report on Tuesday, October 17th. One analyst has rated the stock with a sell rating, five have issued a hold rating and fourteen have issued a buy rating to the company. Rio Tinto presently has an average rating of Buy and an average price target of GBX 3,987.25 ($53.66).
Shares of Rio Tinto (LON:RIO) traded up GBX 14.50 ($0.20) during midday trading on Tuesday, hitting GBX 3,483 ($46.88). The company had a trading volume of 2,271,650 shares, compared to its average volume of 3,830,000. Rio Tinto has a 52 week low of GBX 2,882.50 ($38.80) and a 52 week high of GBX 4,226.56 ($56.89).
In other Rio Tinto news, insider Jean-Sébastien Jacques bought 10 shares of Rio Tinto stock in a transaction dated Tuesday, October 17th. The shares were purchased at an average cost of GBX 3,721 ($50.08) per share, with a total value of £372.10 ($500.81). Also, insider Christopher Lynch bought 26,066 shares of Rio Tinto stock in a transaction dated Friday, December 1st. The shares were acquired at an average cost of GBX 3,490 ($46.97) per share, for a total transaction of £909,703.40 ($1,224,365.28).
COPYRIGHT VIOLATION NOTICE: "Rio Tinto (RIO) Price Target Cut to GBX 4,300 by Analysts at Barclays" was originally reported by StockNewsTimes and is the property of of StockNewsTimes. If you are viewing this article on another publication, it was copied illegally and republished in violation of U.S. and international copyright and trademark legislation. The legal version of this article can be viewed at https://stocknewstimes.com/2017/12/06/rio-tinto-rio-price-target-cut-to-gbx-4300-by-analysts-at-barclays.html.
About Rio Tinto
Rio Tinto plc is a mining and metals company. The Company's business is finding, mining and processing mineral resources. The Company's segments include Iron Ore, Aluminium, Copper & Diamonds, Energy & Minerals and Other Operations. The Company operates an iron ore business, supplying the global seaborne iron ore trade.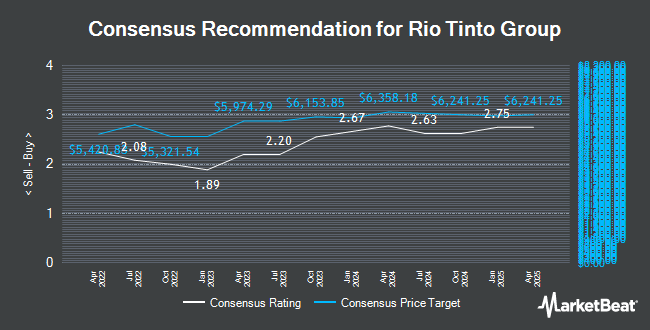 Receive News & Ratings for Rio Tinto plc Daily - Enter your email address below to receive a concise daily summary of the latest news and analysts' ratings for Rio Tinto plc and related companies with MarketBeat.com's FREE daily email newsletter.