Kepler Capital Markets reissued their hold rating on shares of Pearson (LON:PSON) in a report issued on Monday, November 20th. Kepler Capital Markets currently has a GBX 725 ($9.76) target price on the stock.
Several other brokerages have also issued reports on PSON. Berenberg Bank reiterated a sell rating and set a GBX 490 ($6.59) price objective on shares of Pearson in a report on Tuesday, August 22nd. Liberum Capital restated a sell rating and set a GBX 330 ($4.44) target price on shares of Pearson in a report on Thursday, September 14th. Deutsche Bank lowered Pearson to a sell rating and dropped their price objective for the stock from GBX 600 ($8.08) to GBX 470 ($6.33) in a research note on Wednesday, September 27th. Shore Capital reiterated a hold rating on shares of Pearson in a research note on Wednesday, October 11th. Finally, Jefferies Group lifted their target price on Pearson from GBX 523 ($7.04) to GBX 541 ($7.28) and gave the stock an underperform rating in a research report on Wednesday, October 18th. Six investment analysts have rated the stock with a sell rating, nine have issued a hold rating and four have issued a buy rating to the company. The company presently has a consensus rating of Hold and an average price target of GBX 673.71 ($9.07).
Shares of Pearson (LON:PSON) traded up GBX 5.50 ($0.07) during trading on Monday, hitting GBX 721 ($9.70). The stock had a trading volume of 3,780,000 shares, compared to its average volume of 3,810,000. Pearson has a 1-year low of GBX 552 ($7.43) and a 1-year high of GBX 832.50 ($11.20).
In other Pearson news, insider Tim Score acquired 2,610 shares of Pearson stock in a transaction dated Friday, September 29th. The stock was bought at an average cost of GBX 604 ($8.13) per share, for a total transaction of £15,764.40 ($21,217.23).
ILLEGAL ACTIVITY WARNING: "Pearson (LON:PSON) Given "Hold" Rating at Kepler Capital Markets" was originally posted by StockNewsTimes and is the sole property of of StockNewsTimes. If you are reading this news story on another site, it was illegally copied and reposted in violation of United States and international copyright and trademark laws. The original version of this news story can be viewed at https://stocknewstimes.com/2017/12/06/pearson-plcs-pson-hold-rating-reaffirmed-at-kepler-capital-markets.html.
About Pearson
Pearson plc (Pearson) is a learning company. The Company delivers learning through providing a range of educational products and services to institutions, governments, professional bodies and individual learners. The Company operates through three segments, which include North America, Core and Growth.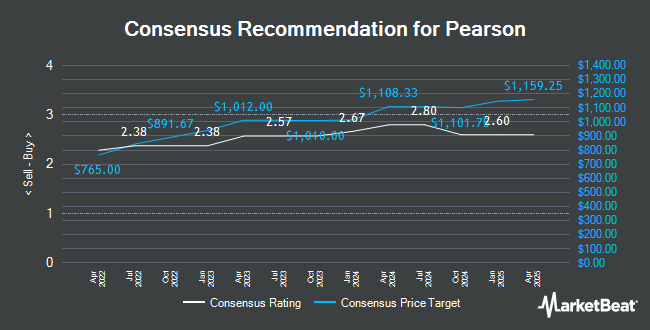 Receive News & Ratings for Pearson plc Daily - Enter your email address below to receive a concise daily summary of the latest news and analysts' ratings for Pearson plc and related companies with MarketBeat.com's FREE daily email newsletter.