Fevertree Drinks (LON:FEVR)'s stock had its "buy" rating restated by equities research analysts at Investec in a research note issued to investors on Tuesday. They presently have a GBX 2,330 ($31.36) target price on the stock. Investec's price objective suggests a potential upside of 22.63% from the company's previous close.
A number of other analysts have also commented on the stock. Shore Capital restated a "hold" rating on shares of Fevertree Drinks in a research note on Tuesday. Berenberg Bank restated a "buy" rating and set a GBX 2,400 ($32.30) price target on shares of Fevertree Drinks in a research note on Monday, November 20th. Finally, Royal Bank Of Canada restated a "sector performer" rating and set a GBX 2,000 ($26.92) price target on shares of Fevertree Drinks in a research note on Thursday, November 9th. Three analysts have rated the stock with a hold rating and two have issued a buy rating to the stock. Fevertree Drinks currently has an average rating of "Hold" and an average price target of GBX 2,207.50 ($29.71).
Fevertree Drinks (FEVR) traded down GBX 72 ($0.97) during trading on Tuesday, hitting GBX 1,900 ($25.57). 665,282 shares of the company were exchanged, compared to its average volume of 928,268. Fevertree Drinks has a 52 week low of GBX 1,002 ($13.49) and a 52 week high of GBX 2,506 ($33.73).
TRADEMARK VIOLATION NOTICE: "Fevertree Drinks' (FEVR) "Buy" Rating Reiterated at Investec" was reported by StockNewsTimes and is owned by of StockNewsTimes. If you are reading this piece on another domain, it was illegally stolen and reposted in violation of United States and international copyright legislation. The original version of this piece can be accessed at https://stocknewstimes.com/2017/12/06/fevertree-drinks-fevr-buy-rating-reiterated-at-investec.html.
Fevertree Drinks Company Profile
Fevertree Drinks plc is a United Kingdom-based holding and investment company. The Company is a developer and supplier of premium mixer drinks. The Company's premium mixers consist of a range of all natural carbonated mixers, including Tonics, Ginger Ale, Ginger Beer, Bitter Lemon and Lemonades. The Company sells a range of products under the Fever-Tree brand, which include Indian Tonic Water, Naturally Light Tonic Water, Elderflower Tonic Water, Mediterranean Tonic Water, Ginger Ale, Ginger Beer, Naturally Light Ginger Beer, Bitter Lemon, Sicilian Lemonade, Lemonade, Spring Soda Water and Premium Cola.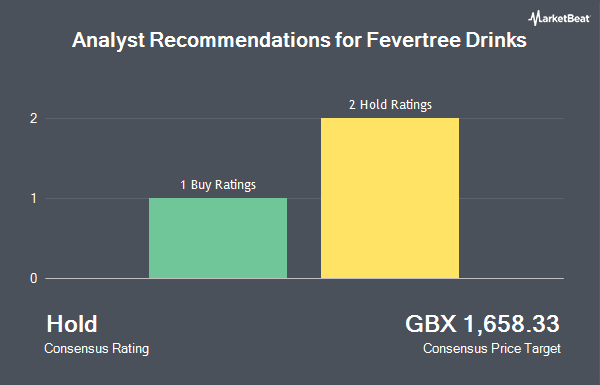 Receive News & Ratings for Fevertree Drinks PLC Daily - Enter your email address below to receive a concise daily summary of the latest news and analysts' ratings for Fevertree Drinks PLC and related companies with MarketBeat.com's FREE daily email newsletter.