Subsea 7 SA (OTCMKTS:SUBCY) – Investment analysts at Jefferies Group cut their FY2017 earnings per share estimates for shares of Subsea 7 in a research note issued on Tuesday, Zacks Investment Research reports. Jefferies Group analyst M. Wilson now expects that the energy company will post earnings of $1.44 per share for the year, down from their previous forecast of $1.46. Jefferies Group also issued estimates for Subsea 7's Q4 2017 earnings at $0.26 EPS, Q1 2018 earnings at $0.22 EPS, Q2 2018 earnings at $0.18 EPS, Q3 2018 earnings at $0.19 EPS, Q4 2018 earnings at $0.17 EPS, FY2018 earnings at $0.76 EPS, Q1 2019 earnings at $0.22 EPS, Q2 2019 earnings at $0.23 EPS, Q3 2019 earnings at $0.24 EPS, FY2019 earnings at $0.92 EPS and FY2020 earnings at $1.07 EPS.
SUBCY has been the subject of a number of other reports. Goldman Sachs Group downgraded Subsea 7 from a "neutral" rating to a "sell" rating in a report on Tuesday, October 10th. Zacks Investment Research cut Subsea 7 from a "hold" rating to a "sell" rating in a research report on Tuesday, October 3rd.
Subsea 7 (
OTCMKTS SUBCY
) traded up $0.31 during trading on Friday, hitting $14.75. 19,282 shares of the stock were exchanged, compared to its average volume of 16,581. The company has a current ratio of 1.29, a quick ratio of 1.27 and a debt-to-equity ratio of 0.05. Subsea 7 has a one year low of $12.11 and a one year high of $17.43. The stock has a market capitalization of $4,828.71, a price-to-earnings ratio of 11.17 and a beta of 1.57.
TRADEMARK VIOLATION NOTICE: This piece of content was published by StockNewsTimes and is the property of of StockNewsTimes. If you are reading this piece of content on another publication, it was illegally stolen and republished in violation of United States and international copyright law. The correct version of this piece of content can be read at https://stocknewstimes.com/2017/12/03/subsea-7-sa-expected-to-post-fy2017-earnings-of-1-44-per-share-subcy-2.html.
Subsea 7 Company Profile
Subsea 7 SA is a provider of seabed-to-surface engineering, construction and services contractor to the offshore energy industry. The Company's segments include SURF and Conventional, i-Tech Services and Corporate. The SURF and Conventional segment includes Subsea Umbilicals, Risers and Flowlines (SURF) activities related to the engineering, procurement, construction (EPC) and installation of systems offshore, including the long-term Pipelay Support Vessel (PLSV) contracts in Brazil, and conventional services, including the fabrication, installation, extension and refurbishment of fixed and floating platforms and associated pipelines in shallow water environments.
Get a free copy of the Zacks research report on Subsea 7 (SUBCY)
For more information about research offerings from Zacks Investment Research, visit Zacks.com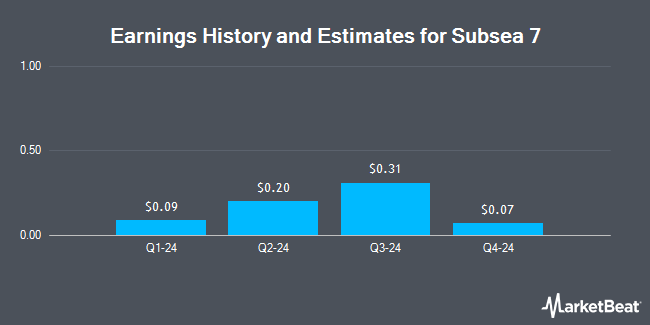 Receive News & Ratings for Subsea 7 SA Daily - Enter your email address below to receive a concise daily summary of the latest news and analysts' ratings for Subsea 7 SA and related companies with MarketBeat.com's FREE daily email newsletter.