Shares of Ardelyx, Inc. (NASDAQ:ARDX) have received a consensus recommendation of "Buy" from the eight ratings firms that are covering the firm, MarketBeat reports. One investment analyst has rated the stock with a sell rating, one has assigned a hold rating and six have assigned a buy rating to the company. The average 12 month target price among brokers that have issued ratings on the stock in the last year is $14.75.
A number of analysts have recently weighed in on ARDX shares. ValuEngine lowered Ardelyx from a "sell" rating to a "strong sell" rating in a research note on Friday, September 1st. Leerink Swann reissued an "outperform" rating and set a $13.00 price objective on shares of Ardelyx in a research note on Tuesday, October 17th. Zacks Investment Research lowered Ardelyx from a "hold" rating to a "sell" rating in a research note on Tuesday, October 17th. Cantor Fitzgerald set a $12.00 price target on Ardelyx and gave the stock a "buy" rating in a research note on Wednesday, October 11th. Finally, BidaskClub raised Ardelyx from a "sell" rating to a "hold" rating in a research report on Wednesday, August 23rd.
TRADEMARK VIOLATION NOTICE: This story was first posted by StockNewsTimes and is the property of of StockNewsTimes. If you are reading this story on another website, it was illegally stolen and republished in violation of U.S. and international copyright & trademark legislation. The original version of this story can be viewed at https://stocknewstimes.com/2017/11/16/ardelyx-inc-ardx-receives-consensus-rating-of-buy-from-analysts.html.
Ardelyx (ARDX) opened at $5.30 on Thursday. Ardelyx has a 52-week low of $4.05 and a 52-week high of $16.30.
Ardelyx (NASDAQ:ARDX) last issued its quarterly earnings results on Tuesday, November 7th. The biopharmaceutical company reported ($0.44) EPS for the quarter, beating analysts' consensus estimates of ($0.54) by $0.10. During the same quarter in the prior year, the firm earned ($0.65) EPS. equities research analysts predict that Ardelyx will post -2.05 earnings per share for the current fiscal year.
In other Ardelyx news, COO Reginald Seeto sold 10,008 shares of the stock in a transaction that occurred on Tuesday, October 24th. The stock was sold at an average price of $5.20, for a total transaction of $52,041.60. The sale was disclosed in a filing with the SEC, which is accessible through this link. Corporate insiders own 15.47% of the company's stock.
A number of hedge funds have recently modified their holdings of ARDX. Tudor Investment Corp ET AL purchased a new stake in Ardelyx in the 2nd quarter valued at approximately $111,000. KCG Holdings Inc. bought a new position in Ardelyx in the first quarter worth about $127,000. State of Wisconsin Investment Board bought a new position in Ardelyx in the second quarter worth about $128,000. Bank of America Corp DE raised its holdings in shares of Ardelyx by 52.6% during the first quarter. Bank of America Corp DE now owns 10,612 shares of the biopharmaceutical company's stock valued at $134,000 after buying an additional 3,659 shares during the last quarter. Finally, Willingdon Wealth Management bought a new stake in shares of Ardelyx during the second quarter valued at approximately $134,000. Hedge funds and other institutional investors own 78.43% of the company's stock.
About Ardelyx
Ardelyx, Inc is a clinical-stage biopharmaceutical company. The Company's therapeutics focuses on addressing cardiorenal and gastrointestinal (GI) diseases. It operates through the research, development and commercialization of biopharmaceutical products segment. The Company's products line includes cardiorenal portfolio and gastrointestinal portfolio.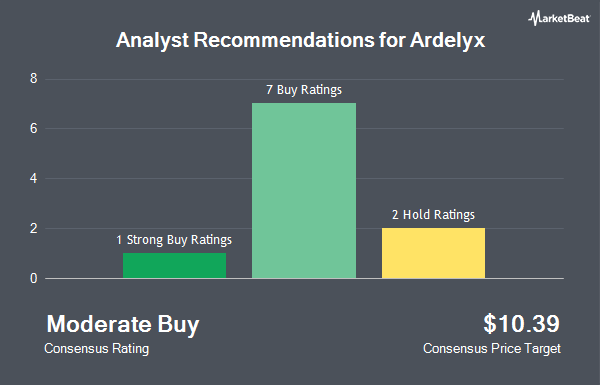 Receive News & Ratings for Ardelyx Inc. Daily - Enter your email address below to receive a concise daily summary of the latest news and analysts' ratings for Ardelyx Inc. and related companies with MarketBeat.com's FREE daily email newsletter.