PC Connection, Inc. (NASDAQ:CNXN) issued its earnings results on Thursday, October 26th. The company reported $0.49 earnings per share for the quarter, meeting the consensus estimate of $0.49, Briefing.com reports. PC Connection had a return on equity of 11.00% and a net margin of 1.63%. The company had revenue of $729.23 million during the quarter, compared to analysts' expectations of $727.84 million. During the same period in the prior year, the business posted $0.53 EPS. PC Connection's quarterly revenue was up 2.9% compared to the same quarter last year.
Shares of PC Connection (CNXN) opened at $25.85 on Friday. The company has a market capitalization of $684.44, a PE ratio of 14.29, a price-to-earnings-growth ratio of 1.81 and a beta of 1.60. PC Connection has a twelve month low of $23.52 and a twelve month high of $30.48.
In other news, Director Negrini David Beffa sold 20,000 shares of PC Connection stock in a transaction dated Tuesday, September 12th. The stock was sold at an average price of $26.00, for a total value of $520,000.00. Following the sale, the director now directly owns 129,800 shares of the company's stock, valued at $3,374,800. The sale was disclosed in a legal filing with the Securities & Exchange Commission, which is available at the SEC website. 57.30% of the stock is owned by company insiders.
TRADEMARK VIOLATION WARNING: "PC Connection, Inc. (NASDAQ:CNXN) Releases Earnings Results, Meets Expectations" was reported by StockNewsTimes and is owned by of StockNewsTimes. If you are viewing this article on another domain, it was illegally copied and republished in violation of international copyright legislation. The correct version of this article can be accessed at https://stocknewstimes.com/2017/11/11/pc-connection-inc-cnxn-announces-earnings-results.html.
CNXN has been the subject of several research reports. Zacks Investment Research lowered PC Connection from a "buy" rating to a "hold" rating in a research report on Wednesday, September 27th. ValuEngine lowered PC Connection from a "buy" rating to a "hold" rating in a research report on Friday, September 1st. Finally, Roth Capital set a $33.00 target price on PC Connection and gave the stock a "buy" rating in a report on Friday, July 28th.
About PC Connection
PC Connection, Inc is a provider of a range of information technology (IT) solutions. The Company conducts its business operations through three business segments: small- to medium-sized businesses (SMB), Large Account and Public Sector. The Company enables customers to design, enable, manage and service their IT environments.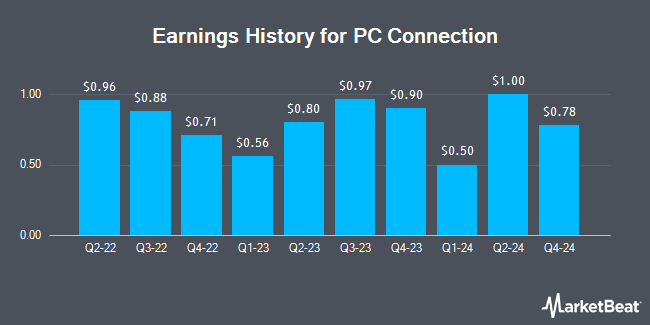 Receive News & Ratings for PC Connection Inc. Daily - Enter your email address below to receive a concise daily summary of the latest news and analysts' ratings for PC Connection Inc. and related companies with MarketBeat.com's FREE daily email newsletter.