Parkland Fuel Corp (TSE:PKI)'s stock had its "outperform" rating reaffirmed by analysts at Scotiabank in a note issued to investors on Friday. They currently have a C$33.75 price target on the stock. Scotiabank's target price indicates a potential upside of 33.61% from the stock's current price.
A number of other brokerages also recently commented on PKI. TD Securities reduced their target price on shares of Parkland Fuel Corp from C$39.00 to C$37.00 and set an "action list buy" rating on the stock in a research note on Friday, August 4th. Royal Bank Of Canada reduced their target price on shares of Parkland Fuel Corp from C$32.00 to C$31.00 and set a "sector perform" rating on the stock in a research note on Thursday, August 3rd. One research analyst has rated the stock with a hold rating, four have assigned a buy rating and one has given a strong buy rating to the stock. The stock presently has an average rating of "Buy" and a consensus price target of C$34.15.
Parkland Fuel Corp (TSE PKI) opened at 25.26 on Friday. The company has a market capitalization of $3.30 billion and a P/E ratio of 66.13. Parkland Fuel Corp has a one year low of $24.63 and a one year high of $32.45. The company's 50-day moving average is $26.17 and its 200 day moving average is $28.34.
WARNING: "Parkland Fuel Corp (PKI) Rating Reiterated by Scotiabank" was published by StockNewsTimes and is owned by of StockNewsTimes. If you are accessing this news story on another website, it was copied illegally and republished in violation of U.S. and international trademark and copyright law. The correct version of this news story can be accessed at https://stocknewstimes.com/2017/10/15/parkland-fuel-corp-pki-rating-reiterated-by-scotiabank.html.
Parkland Fuel Corp Company Profile
Parkland Fuel Corporation distributes and markets fuels and lubricants. The Company delivers refined fuels and other petroleum products to motorists, businesses, consumers and wholesale customers. Its segments include Retail Fuels, Commercial Fuels, Parkland USA, Supply and Wholesale, and Corporate. Its Retail Fuels segment supplies and supports a network of over 1,070 retail gas stations in Canada.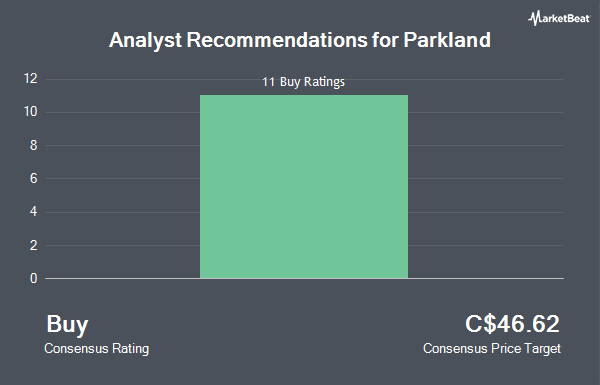 Receive News & Ratings for Parkland Fuel Corp Daily - Enter your email address below to receive a concise daily summary of the latest news and analysts' ratings for Parkland Fuel Corp and related companies with MarketBeat.com's FREE daily email newsletter.