Signature Bank (NASDAQ:SBNY) is scheduled to post its quarterly earnings results before the market opens on Wednesday, October 18th. Analysts expect Signature Bank to post earnings of $2.30 per share for the quarter.
Signature Bank (NASDAQ:SBNY) last announced its quarterly earnings results on Wednesday, July 19th. The bank reported $2.21 EPS for the quarter, missing the Zacks' consensus estimate of $2.22 by ($0.01). The company had revenue of $316.79 million during the quarter, compared to analysts' expectations of $324.44 million. Signature Bank had a return on equity of 12.61% and a net margin of 23.62%. During the same period last year, the firm earned $1.90 earnings per share. On average, analysts expect Signature Bank to post $7.20 EPS for the current fiscal year and $9.90 EPS for the next fiscal year.
Signature Bank (SBNY) opened at 127.16 on Wednesday. The stock has a market capitalization of $6.88 billion, a PE ratio of 20.37 and a beta of 0.96. The firm has a 50-day moving average price of $125.53 and a 200-day moving average price of $136.39. Signature Bank has a 52 week low of $113.53 and a 52 week high of $164.23.
ILLEGAL ACTIVITY WARNING: "Signature Bank (SBNY) to Release Earnings on Wednesday" was originally reported by StockNewsTimes and is the property of of StockNewsTimes. If you are accessing this piece on another publication, it was illegally copied and republished in violation of U.S. & international trademark and copyright laws. The original version of this piece can be viewed at https://stocknewstimes.com/2017/10/11/signature-bank-sbny-to-release-earnings-on-wednesday.html.
Several equities research analysts have recently weighed in on SBNY shares. Deutsche Bank AG reduced their price target on Signature Bank from $178.00 to $162.00 and set a "buy" rating on the stock in a report on Thursday, July 20th. BidaskClub downgraded Signature Bank from a "hold" rating to a "sell" rating in a report on Thursday, July 13th. Morgan Stanley reduced their price target on Signature Bank from $164.00 to $150.00 and set an "overweight" rating on the stock in a report on Friday, September 15th. Hovde Group upgraded Signature Bank from an "underperform" rating to a "market perform" rating and set a $132.00 price target on the stock in a report on Monday, September 11th. Finally, Wedbush reiterated an "outperform" rating and issued a $165.00 price target on shares of Signature Bank in a report on Tuesday, June 27th. One analyst has rated the stock with a sell rating, five have issued a hold rating and twelve have assigned a buy rating to the stock. Signature Bank presently has an average rating of "Buy" and an average price target of $157.27.
Signature Bank Company Profile
Signature Bank is a full-service commercial bank. The Bank operates over 30 private client offices throughout the New York metropolitan area. Its segments include Commercial Banking and Specialty Finance. It offers a range of business and personal banking products and services. Its specialty finance subsidiary, Signature Financial LLC (Signature Financial), provides equipment finance and leasing services.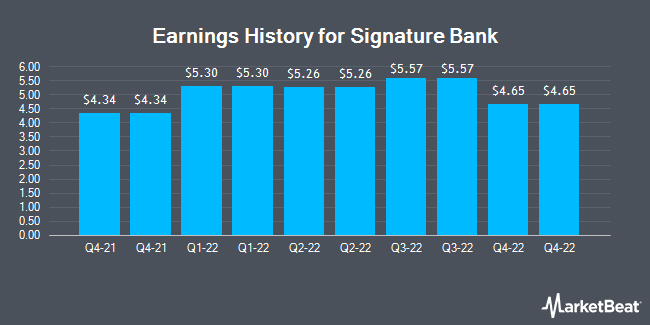 Receive News & Ratings for Signature Bank Daily - Enter your email address below to receive a concise daily summary of the latest news and analysts' ratings for Signature Bank and related companies with MarketBeat.com's FREE daily email newsletter.