Wedbush Securities Inc. raised its stake in shares of LBTY ALL-STAR F (NYSE:ASG) by 11.8% during the second quarter, according to its most recent disclosure with the Securities and Exchange Commission. The firm owned 279,581 shares of the investment management company's stock after buying an additional 29,521 shares during the period. Wedbush Securities Inc.'s holdings in LBTY ALL-STAR F were worth $1,376,000 as of its most recent filing with the SEC.
Shares of LBTY ALL-STAR F (NYSE ASG) opened at 4.84 on Friday. LBTY ALL-STAR F has a 52-week low of $3.88 and a 52-week high of $5.18. The company has a 50-day moving average of $4.99 and a 200 day moving average of $4.69.
The company also recently declared a quarterly dividend, which will be paid on Monday, September 11th. Stockholders of record on Friday, July 28th will be issued a dividend of $0.11 per share. This is an increase from LBTY ALL-STAR F's previous quarterly dividend of $0.10. The ex-dividend date is Wednesday, July 26th. This represents a $0.44 annualized dividend and a dividend yield of 9.09%.
ILLEGAL ACTIVITY NOTICE: This story was originally posted by StockNewsTimes and is the sole property of of StockNewsTimes. If you are accessing this story on another publication, it was illegally stolen and republished in violation of U.S. and international copyright legislation. The correct version of this story can be read at https://stocknewstimes.com/2017/08/12/wedbush-securities-inc-boosts-position-in-lbty-all-star-f-nyseasg.html.
About LBTY ALL-STAR F
Liberty All-Star Growth Fund, Inc is a diversified, closed-end management investment company. The Fund seeks long-term capital appreciation. The Fund may lend its portfolio securities only to borrowers that are approved by the Fund's securities lending agent, State Street Bank & Trust Co (SSB).The Fund's portfolio includes various sectors, such as information technology, consumer discretionary, industrials, financials, healthcare, consumer staples, energy and real estate.
Want to see what other hedge funds are holding ASG? Visit HoldingsChannel.com to get the latest 13F filings and insider trades for LBTY ALL-STAR F (NYSE:ASG).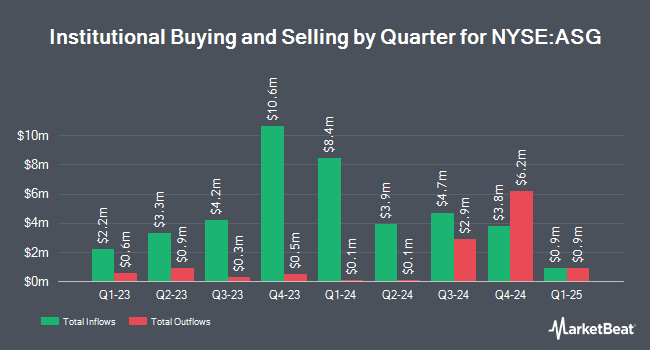 Receive News & Ratings for LBTY ALL-STAR F Daily - Enter your email address below to receive a concise daily summary of the latest news and analysts' ratings for LBTY ALL-STAR F and related companies with MarketBeat.com's FREE daily email newsletter.