Udg Healthcare PLC (LON:UDG) has received an average rating of "Hold" from the nine analysts that are presently covering the stock, MarketBeat Ratings reports. Six equities research analysts have rated the stock with a hold rating and three have assigned a buy rating to the company. The average 12 month price objective among brokers that have updated their coverage on the stock in the last year is GBX 817.50 ($10.65).
UDG has been the topic of a number of recent analyst reports. Jefferies Group LLC downgraded Udg Healthcare PLC to a "hold" rating and boosted their price objective for the company from GBX 760 ($9.90) to GBX 785 ($10.22) in a research note on Wednesday, May 24th. Liberum Capital reissued a "buy" rating and issued a GBX 760 ($9.90) price objective on shares of Udg Healthcare PLC in a research note on Tuesday, May 23rd. Berenberg Bank boosted their price objective on Udg Healthcare PLC from GBX 745 ($9.70) to GBX 800 ($10.42) and gave the company a "hold" rating in a research note on Friday, June 23rd. Stifel Nicolaus reaffirmed a "hold" rating and set a GBX 775 ($10.09) price target on shares of Udg Healthcare PLC in a research note on Thursday, August 3rd. Finally, Peel Hunt reaffirmed an "add" rating and set a GBX 840 ($10.94) price target on shares of Udg Healthcare PLC in a research note on Thursday.
COPYRIGHT VIOLATION WARNING: This article was originally reported by StockNewsTimes and is the sole property of of StockNewsTimes. If you are reading this article on another site, it was illegally stolen and reposted in violation of US and international copyright law. The original version of this article can be read at https://stocknewstimes.com/2017/08/12/udg-healthcare-plc-udg-given-average-rating-of-hold-by-analysts-updated-updated.html.
In related news, insider Jez Moulding acquired 18,000 shares of the stock in a transaction dated Wednesday, May 31st. The stock was purchased at an average cost of GBX 808 ($10.52) per share, with a total value of £145,440 ($189,399.66). Also, insider Chris Corbin sold 5,650 shares of the company's stock in a transaction that occurred on Wednesday, June 14th. The shares were sold at an average price of GBX 827 ($10.77), for a total value of £46,725.50 ($60,848.42).
Udg Healthcare PLC (UDG) traded down 0.24% on Tuesday, reaching GBX 827.00. 377,754 shares of the company traded hands. The stock's market capitalization is GBX 2.05 billion. Udg Healthcare PLC has a 52-week low of GBX 605.36 and a 52-week high of GBX 886.50. The firm has a 50 day moving average price of GBX 844.05 and a 200 day moving average price of GBX 759.71.
Udg Healthcare PLC Company Profile
UDG Healthcare plc, formerly United Drug plc, is a healthcare services provider in the Republic of Ireland, the United Kingdom, North America and Continental Europe. The Company operates in three segments. The Ashfield Commercial & Medical Services segment is engaged in the provision of sales, marketing and healthcare communications services to pharmaceutical companies, and it also provides sales teams, healthcare communications, telesales, nurse educators, medical information, pharmacovigilance, regulatory and event management services to over 300 healthcare companies.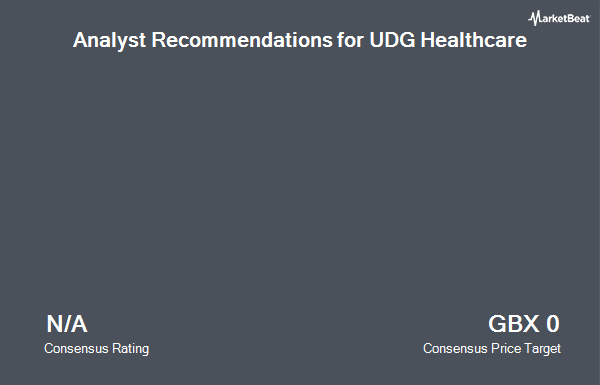 Receive News & Ratings for Udg Healthcare PLC Daily - Enter your email address below to receive a concise daily summary of the latest news and analysts' ratings for Udg Healthcare PLC and related companies with MarketBeat.com's FREE daily email newsletter.